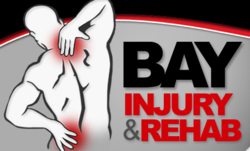 Past Ribfest events have raised over $3 million for charities.
St. Petersburg, FL (PRWEB) November 08, 2012
St. Petersburg chiropractic clinic Bay Injury & Rehab has announced that the practice will be sponsoring the Northeast Exchange Club's Ribfest. Bay Injury & Rehab will have a tent at the festival with massage chairs to provide relaxation for Ribfest attendees.
The festival will feature award-winning ribs and musical performances from popular musicians including Santana, Jonny Lang and Heart. Family-friendly activities hosted by the Great Explorations Children's Museum that will be available at Ribfest include miniature golf, mural painting and a bounce castle.
Proceeds from the event are donated to local charities benefiting children. Past Ribfest events have raised over $3 million for charities ranging from child abuse prevention networks to the St. Petersburg All Children's Hospital that specializes in pediatric treatment and research.
The festivities kick off at 11a.m on November 9th at Vinoy Park in St. Petersburg and continue through the weekend.
About Bay Injury & Rehab:
Bay Injury & Rehab is a therapy facility in St. Petersburg that offers a number of chiropractic services and rehabilitation care to patients. The practice is headed by St. Petersburg chiropractor Dr. Samuel Meyers. Dr. Meyers has been practicing chiropractic medicine since 2003, and his practice offers a unique combination of physical therapy and traditional chiropractic treatments to help patients recover quicker and more effectively than using just one of these methods of rehabilitation.
For more information about Bay Injury & Rehab, visit their website at http://www.bayinjury.com or call (727) 5328-1133.