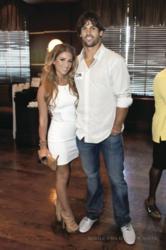 Nashville, TN (PRWEB) November 07, 2012
Denver Broncos Wide Receiver Eric Decker and singer/songwriter fiancé Jessica James announce new blog on SOTL.com. Decker is a top target of Peyton Manning and leads the Broncos in touchdowns this season, while Jessica is a recording artist on Mercury/Show Dog Universal Music. The couple has agreed to share their lives and personal interests in their new blog entitled Beauty and the Bronco.
In the blog, Decker, who is in his third season with the Broncos, says he's been witness to various changes with the team over the past few seasons.
"I am currently in my 3rd season and have seen a lot in my time here," said Decker. "My head coach getting fired my rookie year, Tim Tebow and the crazed 2011 comeback season, and now getting the chance to play with one of the best quarterbacks to ever play the game, Peyton Manning. I will say, though, I have enjoyed every second of it! Off the field, I have been just as blessed! Recently engaged to an incredible woman, 3 dogs (which act like kids), traveling the world during the offseason and enjoying the Colorado outdoors."
Jessica James, singer/songwriter born in Vicenza, Italy, moved around the globe with her "gypsy mother and military father." James moved to Nashville to pursue her music career after high school and lived in Music City for six years until she met Decker through a mutual friend. The couple now lives in Denver and James admits she is now learning the game of football. She moved to Denver about a year ago and says she loves the city, learning the game and getting to know the other Bronco wives. She describes the world of music and sports as opposite ends of the spectrum, which she is getting used to.
"It has been amazing to experience and dabble in two completely different worlds," said James. "I get to go out on the road, tour like a rockstar, stay out late after my gigs drinking and cutting it up, while the other part of my life is so different. Eric and I share a cozy home with our dogs and I feel such happiness at the thought of being his wife. I enjoy shopping, baking and cooking pot roast or jambalaya so my man never goes hungry and has enough fuel from his long grueling practices (he gets very grumpy when he's hungry just to fill you in!)"
James also talks about her Twitter feed in defending her fiancé among "rude fans" who post to her site.
"If any of you follow me on Twitter @TheJessicaJames, you have seen my many crazy comebacks or tweets back to some sports fans that are rude," said James. "I like to have a sense of humor about it, because at the end of the day, guess what, Eric is human."
To read the full blog and comment on the Eric Decker and Jessica James blog, visit http://BeautyAndTheBronco.SOTL.com
In addition, the couple will be giving away a fan prize package to blog readers that include an autographed Eric Decker jersey and two autographed singles from Jessica James - Military Man and When You Say My Name.
SOTL.com offers a unique look at NFL around the league, lifestyle and interests with a variety of blogs. For all the player blogs, news and poll results, visit http://www.sotl.com.
More About School of the Legends / SOTL.com
SOTL.com was founded in 2009 as the Official Licensed Product of NFL Players and serves as "The Voice of the Players"™ with more than 2,500 current and former players contributing to the site. SOTL.com features weekly football and lifestyle blogs by dozens of NFL players and alumni, including Jerome Bettis, Barry Sanders, Patrick Peterson, Will Smith, Dwayne Bowe, Cliff Avril and others. SOTL.com is the player's site where they comment directly on football news stories of the day and contribute to exclusive player polls that give fans their perspective on the league's most important issues.
The sister site, SOTLTraining.com, is the largest online source for football training classes with the instructional video series "Legends in Training" that feature players such as Peyton Manning, Larry Fitzgerald and Tony Gonzalez to name a few as well as instruction from professional coaches and trainers. SOTL.com and SOTLTraining.com are officially licensed partners of NFL Players Inc.