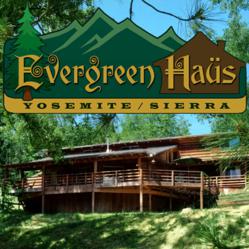 We're very excited to celebrate this initial completion of our cabin and property restoration with our friends and the local community by opening our doors and having a grand opening and ribbon cutting event with food, drinks and raffle
Oakhurst, CA (PRWEB) November 07, 2012
One of the newest cabin lodging houses near Yosemite National Park is inviting the public to an Open "Haus."
Eddie and Stefanie Rainwater of the Evergreen Haus in Oakhurst are holding an open house on Saturday, November 17 from 3 to 5 pm.
"We're very excited to celebrate this initial completion of our cabin and property restoration with our friends and the local community by opening our doors and having a grand opening and ribbon cutting event with food, drinks and raffle," said Eddie.
Since the Rainwaters opened their business this summer, they hadn't had a chance to really celebrate their new status as B&B owners due to the busy tourist season.
"We're really thankful that since we opened July 4th week-end, we had a great summer season. Now that things have slowed down, we wanted to take the chance to open our cabin up to our neighbors and introduce ourselves to the community," Eddie said.
Another B&B next door, A Bed of Roses owned by Steve and Mary Kay Eicholz, will also be on hand.
"Our new neighbors who recently took over and re-opened A Bed of Roses Bed and Breakfast, have graciously offered to additionally open their B&B for visitors to tour also," he said.
The open house starts at 3 pm and goes until 5 pm. There will be German-style refreshments to go along with the German theme of the property. Anyone interested in attending can RSVP to info(at)evergreenhaus(dot)net or call 559 641-2220.
Evergreen Haus is located at 43552 Whispering Pines Drive in Oakhurst. For more information visit http://www.evergreenhaus.net.
-END-