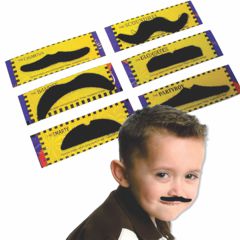 Chicago, IL (PRWEB) November 08, 2012
Similar to Breast Cancer Awareness throughout the month of October, the month of November is dedicated to raising awareness to certain men's health issues, specifically prostate and testicular cancer. The cause is called "Movember", and to show support men are supposed to grow and maintain a moustache for the entire month while raising money to donate to the Prostate Cancer Foundation as well as the LIVESTRONG Foundation. The cause is still relatively new, with this year as the nine year anniversary.
According to the official Movember website, the Movember Foundation was created by a small group of guys in Melbourne, Australia. The first year they participated in Movember was in 2003, but no funds were raised. It was in 2004 that the Movember Foundation was officially established. At that time, Australia was the only country involved in supporting the cause. The U.S. Prostate Cancer Foundation partnered with the Movember Foundation in 2007, participating in the cause that November. Now over fourteen countries support it and participate in raising funds and awareness to support various men's health foundations.
The point of the charity is for men to grow moustaches while providing information about various men's health issues, as well as asking for donations from friends and family members to contribute to the Movember Foundation. As with Breast Cancer Awareness, they wish to inform men about the various illnesses to help prevent them and to encourage men to be checked regularly by their doctors. At the end of the month participants can attend "Gala Partés" held in different cities throughout the U.S. to celebrate the cause. Participants can also throw their own events, called "Mo Parties", in order to promote the cause. Other events, such as the Mustache Dache in Seattle, Washington and the Electric Run in Orange County, California, encourage the wellness of men's health through charity races. For those men that cannot grow a full moustache, Windy City Novelties has them covered with their supply of stick on moustaches. Men can choose from a variety of different moustache styles when they purchase the Moustache 12 Pack. Colored moustaches are perfect for the women who are raising money to donate to the cause. Participants can also get creative at the Movember parties and events by sporting a crazy moustache of a famous celebrity or movie character, such as Hulk Hogan or Captain Jack Sparrow.
Men and women can sign up to officially support the cause on the Movember official website. To learn more, visit us.movember.com.
ABOUT WINDY CITY NOVELTIES
Windy City Novelties, a party supply company founded in 1983, is known for their great selection and competitively priced items. They have an A+ rating from the Better Business Bureau and are also a NexTag 5 star Seller. From their website, windycitynovelties.com, they offer fast and friendly shipping along with great customer service. From glow sticks in every color of the rainbow, to party decorations in a variety of themes, and even a vast selection of Halloween costumes at the best prices, Windy City Novelties has over 15,000 products and adds more each week.