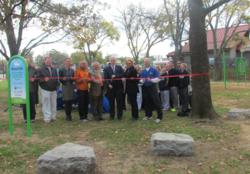 There is nothing simpler than free, accessible equipment outdoors.
Chattanooga, TN (PRWEB) November 09, 2012
Play & Park Structures, a PlayCore company, donated 16 adult outdoor fitness stations from their recently launched HealthTrail fitness system to be placed along a 2/3 mile trail through Warner Park in Chattanooga, Tennessee. The Grand Opening took place on October 29, 2012, during a sunny, yet blustery celebration and ribbon cutting ceremony attended by representatives from The University of Tennessee at Chattanooga (UTC), Chattanooga Parks and Recreation, PlayCore, University students, and Mayor Ron Littlefield.
Through a collaborative partnership between PlayCore and experts from the University's Health and Human Performance Department, the donation provides outdoor fitness and wellness opportunities to the Chattanooga community that will promote healthy lifestyles and physical activity in the great outdoors. PlayCore consulted with leading experts from UTC's Health and Human Performance Department on the development of the Health Trail fitness line and the corresponding educational user's guide.
"We were trying to set things up so basically anybody could do it, from a pure beginner to an athlete," explained Burch Oglesby, Ph.D., Associate Professor of Exercise Physiology at UTC and project leader. The team of professionals provided guidance with the product line development, created the various exercise activities on the system's signage, and used current research and information to create a downloadable guide to further supplement the user's experience. Jennie Sumrell, Director of Programs and Partnerships at PlayCore commented, "The knowledge and involvement with the advisors from UTC was critical to ensuring that users of all abilities and fitness levels have a robust, effective experience while utilizing the equipment to meet their individual levels and needs. We are proud to have partnered with them on this initiative to promote healthy lifestyles in our community."
After the ribbon was cut, students and parks and recreation employees enjoyed demonstrating the use of the new fitness trail equipment and exploring the four difficulty levels each station offers. Autumn Corbin, a junior Exercise Science major shared, "I usually have to separate my cardio and strength training, which can be a hassle to fit both of them in with my schedule. Now I can do both at the same time, all while being outside. I plan on incorporating this equipment into my fitness routine at least 2-3 times a week."
Designed for people of all fitness levels, HealthTrail provides individuals ages 13 years or older a total body workout. Featuring 16 fitness stations with 2 activities at 4 levels of difficulty, HealthTrail offers a total of 128 activities. The system also offers warm-up and cool down stations and signage that provides simple, effective, health-related messaging and programming.
"With exercise, the magic pill is keeping it simple," stated Rick O' Rear, Director of the Chattanooga Fitness Center. "There is nothing simpler than free, accessible equipment outdoors."
For more information about Play & Park Structures and HealthTrail fitness system or to download the free user's guide, visit the website at http://playandpark.com/healthtrail.
About Play & Park Structures
Play & Park Structures, a PlayCore company, was established with the mission of designing and manufacturing the highest quality playground products. Established in 1976, Play & Park Structures is headquartered in Chattanooga, TN. To learn more visit http://www.playandpark.com.
About PlayCore
PlayCore helps build stronger communities around the world by advancing play through research, programs, and partnerships. We infuse this learning into our complete family of brands. We combine best in class planning and education programs with the most comprehensive array of recreation products available to create solutions that match the unique needs of each community we serve. PlayCore's corporate headquarters are located in Chattanooga, Tennessee. To learn more visit http://www.playcore.com.