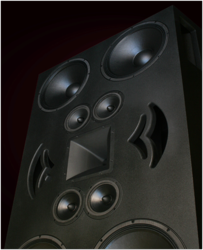 "A simple demonstration of rainfall with thunder in the distance is totally convincing- you're ready to reach for an umbrella."
Springfield, IL (PRWEB) November 14, 2012
Speaker manufacturer and audio technology pioneer, Legacy Audio has raised the bar in theater venue sound with the brand new doubleHELIX Theater System. Enhancing existing 5.1 or 7.1 channel playback, the system uses more channels including an overhead speaker for a more immersive experience. The doubleHELIX Theater System is suitable for high performance venues ranging from medium sized auditoriums to the largest movie theaters.
Legacy Audio President, Bill Dudleston, extols the virtues of the new system: "For the first time, a patron seated in the far corner of the theater will have a similar experience to those seated in the center. A simple demonstration of rainfall with thunder in the distance is totally convincing- you're ready to reach for an umbrella." The main speakers have specialized acoustic steering, allowing the system to provide high performance sound anywhere in the theater or auditorium. The side and rear channels also integrate with the overhead speaker leaving one feeling as if they are part of the action on-screen.
The doubleHELIX technology was first utilized in a custom system built for legendary record producer L.A. Reid of Epic Records, X-Factor, UMG fame. The most recent project to benefit from the doubleHELIX Theater Speaker System, The Giant Screen Digital Theater at the Peoria Riverfront Museum, features a 70 x 52 ft giant 3D screen with dual 4K digital projectors for razor sharp picture quality. The state of the art Legacy Audio sound system is based around five doubleHELIX speakers at the front of the theater. Fourteen Legacy Audio surround speakers and a special overhead channel steer the sound to any point in the 200 person auditorium. The system is powered by 42 channels of amplification delivering 14,000 watts of power.
Evolving cinema technologies from studios such as DreamWorks® and Pixar® and the increase in 3D movie releases have resulted in movie-goers seeking an ever more exciting theater experience. As the movie theater industry continues to demand higher quality playback, speaker manufacturer Legacy Audio meets the challenges by pioneering maximum performance audio solutions to push the boundaries of audio playback with the doubleHELIX Theater Speaker System.
About Legacy Audio
For three decades, Legacy Audio has handcrafted some of the finest loudspeakers available. The quality standard is the same for the flagship commercial doubleHELIX system as the Studio HD bookshelf system. Legacy Audio speakers are renowned for establishing reference level performance in theater, music and audiophile settings.
Further Information on the Peoria Riverfront Museum Giant Screen Digital Theater is available here.