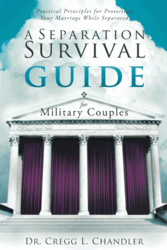 This book will save marriages, save families, and save lives.
Columbia, S.C. (PRWEB) November 08, 2012
Retired Air Force chaplain Dr. Cregg L. Chandler is on a mission to rescue relationships in his indispensible new handbook, "A Separation Survival Guide for Military Couples" (published by WestBow Press).
Many military relationships suffer from lengthy periods of separation and high stress levels, which often cause tension and can lead to infidelity, divorce, and, at worst, suicide. Chandler wrote "Separation Survival Guide" as a tool for military couples to identify and avoid the pitfalls and traps of unfaithfulness.
"I want to help couples avoid these tragedies from a preventative perspective and to help them build and develop a strong marriage to endure tough times," he says.
In "Separation Survival Guide," military couples will learn how to maintain commitment regardless of how long they are apart. By exposing the main pressure points of a military relationship and the involuntary biological forces at work, Chandler empowers couples to take control of their commitment to one another by enacting a series of practical solutions aimed to avoid adultery.
With more than 25 years of experience in counseling, Chandler has repeatedly witnessed infidelity-induced agony endured by military families. He felt compelled to bring awareness to the epidemic after seeing divorce rates skyrocket within the military community.
"This book will save marriages, save families, and save lives," he says.
About the Author
Dr. Cregg L. Chandler earned a doctorate in ministry from Regent University and has published a documentary dissertation addressing the issue of family separation. The author lives in South Carolina with his wife of 30 years. He is retired from military service but continues to serve in ministry, assisting individuals, families, and veterans in his community.