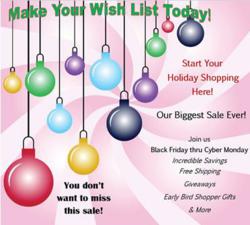 Our goal is to provide customers with gifts that provide a lasting memory and a delightful shopping experience.
~M.Holder
Naples, FL (PRWEB) November 08, 2012
Seat Sack, Inc is lighting the way this Holiday Season with their biggest sale ever! The company is planning a big event Black Friday through Cyber Monday. Customers will experience a creative and enjoyable shopping experience whether they shop in the comfort of their home or while they are waiting in line for storefront shops to open by utilizing a new Holiday 2012 digital catalog or their online website.
Customers will enjoy free shipping, free gift with purchase, a very special coupon offer, giveaways and more. Seat Sack offers educational toys and games through their O2Teach product line as well as organizers for teachers, students, co-workers and executives manufactured by The Original Seat Sack Company. Classroom and office organizers can be embroidered for a personalized gift with the recipient's name. The company features high quality products that engage students and meet the needs of the individual learner through creative hands-on learning materials. Products can be used in the home, school, office settings, day cares, waiting rooms, and more.
The Company's dedication to quality and customer satisfaction is a great way for buyers to know that their gift will be well received. According to Michelle Holder, the Director of Marketing & Sales, "We feel so blessed to be able to put a smile on the face of our customers. Opening a box of Seat Sacks is a teacher's dream and children are fascinated by the educational products that we offer." With the companies holiday digital catalog customers will be guided through the shopping experience through topics such as: grandma's goodies, stocking stuffers, technology under the tree, family fun, personalized gifts and timeless treasures. "Our goal is to provide customers with gifts that provide a lasting memory and a delightful shopping experience," stated Ms. Holder
The Original Seat Sack Company, http://www.seatsack.com has been helping teachers, parents and students get organized with personal storage space for the home, school and office for over thirteen years. Known for their patented Seat Sack chair storage pocket, the company has expanded their line with organizers for the classroom, locker, dorm and office. In addition to the Seat Sack organizer line, the company recently opened an educational products line under O2Teach, "Organize to teach". With a passion to provide high quality educational tools and organizers, both companies assist educators and parents in engaging learners and meeting the needs of the individual student.