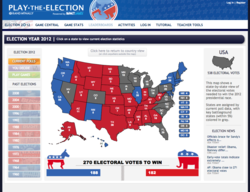 Pittsburgh, PA (PRWEB) November 08, 2012
ImpactGames, a Pittsburgh-based developer of games for change, is pleased to announce that Play the Election (http://www.playtheelection.com), a game created in partnership with Rand McNally, has been awarded both Best of Show and Best Games Course at the DevLearn 2012 DemoFest event held October 31st - November 2nd in Las Vegas, NV.
Play the Election, built on ImpactGames "Play the News" platform, is a free to use casual games site aimed at 7-12 grade students. The platform was built to integrate into the National Standards for Civic and Government as well as the Common Core State Standards. The platform includes eleven mini games as well as an interactive Electoral College map that aids in the education of how the US election process works and looks at several key issues critical to the 2012 Presidential Election.
"I'm very proud of the team, the platform, and what we have accomplished. These awards are indicative of the amount of effort that went into the development of this platform and I am very honored that we have received them" said Kris Rockwell, CEO of ImpactGames.
"Play the News has been a project of passion for us for a long time. We were excited to have the chance to partner with Rand McNally to get it out there for the election and are excited to see it being used to educate kids about such and important issue" added Eric Brown, President of ImpactGames.
Play the Election has a user base in excess of 15,000 players and has seen registrations from across the United States and overseas.
About ImpactGames
Pittsburgh-based ImpactGames (http://www.impactgames.com) is a world-renowned pioneer in creating compelling interactive experiences around current events and socially responsible issues. ImpactGames focuses on the use of innovative games and technology to create awareness and educate users. ImpactGames' catalog includes the Peacemaker game, winner of the USC's "Reinventing Public Diplomacy through Games" Contest and winner of the "Best Transformation Game" award at the Games for Change Annual Contest, and the Play the News platform, winner of the 2009 Knight Foundation Award for News Gaming. ImpactGames is a wholly owned subsidiary of Hybrid Learning Systems.