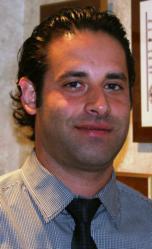 Brooklyn, NY (PRWEB) November 07, 2012
Dr. Navid Baradarian of Marine Park Periodontics & Implantology treats receding gums by performing gum graft surgery. When periodontal disease is in the advanced stages, it can cause gums to recede. In the early stages of the disease, gums may be painful or sensitive and may bleed easily when teeth are brushed. As the disease progresses, gums begin to recede, which exposes the teeth. This can lead to problems such as tooth decay and even tooth loss. In order to save teeth, a dentist surgically installs gum grafts in the areas where the gums are particularly low.
There are three common types of gum grafts. The connective-tissue graft utilizes tissue removed from under a flap of skin that the dentist cuts in the roof of the mouth. The flap is stitched back down after the tissue is removed, and the tissue is stitched to the existing gum tissue to cover the tooth in the low area. When patients have thin gums, the free gingival graft is used. This graft involves tissue taken directly from the roof of the mouth rather than cutting a flap of skin first. The pedicle graft is preferred when patients have lots of gum tissue near the receding gums. It uses nearby tissue that is partially cut and pulled over to cover the root that has become exposed.
With each type of gum graft, the dentist stitches the tissue directly to the area of the gums that requires treatment. The new tissue will eventually join with the existing tissue and the gum line will rise. Post-operative instructions should be followed with care to allow the gums adequate healing time.
Receding gums pose a dental health problem that can lead to loss of teeth. Dr. Baradarian utilizes a gum grafting treatment to raise the gum line and help protect the teeth. To learn more about the gum grafting procedure, visit http://www.marineparkperio.com.
Marine Park Periodontics and Implantology is a periodontal practice offering patients personalized dental care for Brooklyn and New York, NY. Dr. Navid Baradarian became a Doctor of Dental Surgery at State University of New York at Buffalo School of Dental Medicine; he earned a Certificate with honors in Productivity and Patient Care from New York University Advanced Education in General Dentistry - New York, NY, and received extensive training in implant dentistry; he achieved his Specialty Certificate in Periodontics at University of Medicine and Dentistry of New Jersey. Dr. Baradarian is part of one percent of dental professionals providing the most recent FDA cleared laser procedure for gum disease and periodontal treatment. To learn more about Marine Park Periodontics and Implantology and their dental services visit their website at http://www.marineparkperio.com and call the Brooklyn location at (347) 586-5997 or New York City at (917) 472-9904.