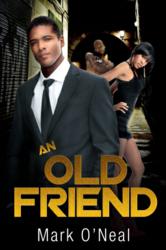 Chicago, Illinois (PRWEB) November 09, 2012
There are millions of authors jockeying for position to be on the bestsellers list, and this is no doubt an extremely arduous task. What makes Mark O'Neal stand out from the rest of the pack is the authenticity of his writing. It is there that his past and present experiences are molded into stories that captivate an audience from beginning to end.
His latest book titled An Old Friend embodies the essence of his life experience growing up on the south side of Chicago. The main character Mike Cross is a young and successful businessman with a wild side. He encounters an old college friend and gets robbed when he lets his guard down. He also meet the girl of his dreams later on that night, and his life is suddenly changed forever.
This relatively obscure author has several other titles to his credit (Gifted, Blind Love, The Moment of Truth and Ulterior Motives), and his next book titled Keep Your Enemies Closer will be released in early 2013. A reader is sure to be spellbound while enjoying the Mark O'Neal experience, and the literary world will definitely benefit from his works for years to come. Pick up a copy of An Old Friend today!