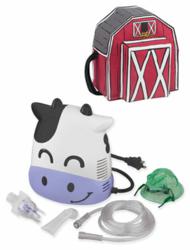 Chicago, IL (PRWEB) November 08, 2012
It is oftentimes difficult to give young children the medicine or care that they need for certain asthma or allergy conditions. They can often become overwhelmed by the site of these particular health care products. Allergy Asthma Technology's new line of child health and child safety products ease children into getting the appropriate care.
Parents often find it difficult to make asthmatic young children take their medicine. Nebulizers are the most effective way of receiving asthma treatment, but they intimidate young children. Allergy Asthma Technology carries children's nebulizers in the shapes of fun animals to almost disguise the nebulizer. They come in the shape of friendly animals such as the Margo Moo Nebulizer in the shape of a cow face, and the Digger Dog Nebulizer in the shape of a smiling dog. The nebulizers are easy to use and a mask is placed over the child's mouth and nose to ensure the child is receiving the correct amount of medicine. The device is hands-free, so the child can even be distracted with toys while getting the necessary treatment.
It is common for new parents to worry about germs and their newborns. Allergy Asthma Technology's Baby's Breath Air Purifier will put all those worries to rest. The device can simply be placed somewhere in the baby's bedroom and requires very little maintenance. The purifiers contain a state of the art HEPA system that will extract airborne germs and bacteria from the atmosphere in the room. It can accommodate rooms up to 700 square feet. The sound the purifier makes is also proven to sooth babies to sleep and to help them sleep more soundly.
Allergy Asthma Technology also carries a UV Baby Bottle Nipple Sanitizer that effectively cleans the tips of baby bottles. The ultraviolet light works to kill germs and bacteria right on the surface in an efficient manner, excluding the need for washing such objects with soap and water. The sanitizer is compact with dimensions of 3"H X 3"W X 3 3/4"D, and therefore is easily portable and will fit right in the diaper bag. It can also work on pacifiers and small teething toys to reassure parents their child is safe from germs.
When an infant receives a stuffy nose, it is difficult to treat. Parents and caretakers can become uncomfortable with using the typical nasal aspirators on infants. Allergy Asthma Technology's Graco Nasal Clear Aspirator is stronger and quicker than typical aspirators, but is gentle enough for infant use. The battery operated aspirator allows parents to control and release the suction as needed. It also plays 12 different soothing tunes to calm or distract infants and babies. A section of the device separates from the battery powered section in order to be cleaned and sterilized. The small part that detaches is strong enough for dishwashers.
ABOUT ALLERGY ASTHMA TECHNOLOGY
Located in Morton Grove, IL, Allergy Asthma Technology has been helping allergic and asthmatic individuals by providing products to help with symptoms for over 40 years. The company continually searches for medically approved allergy and asthma products that will help their customers lead a healthier life. The company offers all types of anti-allergen products from allergy free bedding to UV sanitizing wands. Allergy Asthma Technology is dedicated to helping enhance their customer's quality of life by providing important information, premium products, and quality customer service.