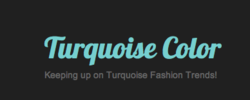 The site launched in early November and has already become a must-visit destination for turquoise lovers, collectors and enthusiasts.
(PRWEB) November 07, 2012
A brand new website is delving in to all the fashion trends associated with ever-growing popularity of turquoise. Turquoise-color.com is the new destination for all things dedicated to the stone and its relevance in fashion today.
"With the explosion in popularity of turquoise in the fashion and entertainment world, launching turquoise-color.com was a no-brainer," says site spokesperson Dave Collins. "With some of the biggest stars from stage and screen prominently wearing turquoise, we believed it was important to create a place where you can keep up with all the trends."
Turquoise-color.com covers everything you need to know about the precious stone. Whether you're wondering what the stars are wearing out on the town or on the red carpet, what kind of turquoise accessories are available, or what are the best colors to match up with turquoise to complete your ensemble, Turquoise-color.com is on top of it all.
The site isn't just for women either. Several sections of turquoise-color.com are dedicated to the role the gemstone plays in men's fashion. "We thought it was important to include men because there's a large amount of stylish and popular jewelry and accessories available to them too" Collins said.
The site launched in early November and has already become a must-visit destination for turquoise lovers, collectors and enthusiasts. "The response has been overwhelming and we couldn't be happier about how people share our excitement for turquoise color."
In addition to giving fashion updates and advice, turquoise-color.com also provides gift buying tips and ideas, as well as the history of the vintage jewelry and accessories being worn by the stars today. Collins said, "Our goal was to make this site a one-stop shop for everything related to turquoise. Our fans, followers and readers are thrilled with what we've done so far, but the best is yet to come."
To learn more, visit the official site at turquoise-color.com