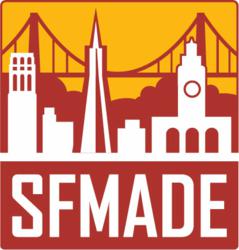 "These findings demonstrate that the local manufacturing industry remains an important job creator in San Francisco, that is hiring our diverse local workforce," said Mayor Edwin M. Lee.
San Francisco, CA (PRWEB) November 08, 2012
With companies that specialize in making everything from apparel to food products to furniture to green building components and more, local San Francisco manufacturers expressed optimism and demonstrated strong growth in 2012, according to a report from SFMade. The nonprofit presented its findings today at its Annual State of Local Manufacturing Breakfast, before an audience of real estate development, finance and retail professionals.
SFMade's report revealed that the city's manufacturing companies picked up the pace of job creation, adding 12.5% net new jobs, as compared with 10.5% in 2011. San Francisco manufacturers now employ more than 3,200 workers. SFMade membership has swelled to over 400 companies, up from 250 in 2011, all headquartered in and producing product in San Francisco.
The city's local manufacturers drove over $325M in direct revenue into the local economy, according to the report. Respondents to the survey were optimistic about their companies' prospects, with 85% expecting to be profitable by the close of 2012, and 40% planning to look for expanded space in the next 12 months.
"These findings demonstrate that the local manufacturing industry remains an important job creator in San Francisco, that is hiring our diverse local workforce," said Mayor Edwin M. Lee. "Through our manufacturing initiative and partnership with SFMade, we remain focused on supporting the continued growth and success of local manufacturers."
The report attributes the growth in manufacturing to numerous factors, including development programs managed by SFMade and its partners, initiatives from the City of San Francisco, and growing consumer appetite for authentic, locally-made products. San Francisco Mayor Edwin M. Lee has made supporting the manufacturing sector a key goal of his 17-Point Jobs Plan. Through the Mayor's leadership, the City has hired a "manufacturing liaison" position within the Office of Economic and Workforce Development to serve as a single point of contact at the City for manufacturing businesses. The FashionSF Initiative, launched by Mayor Ed Lee in partnership with SFMade, bolsters the growing garment-making industry here, which comprises 42% of all local manufacturing.
"SFMade's report shows momentum building for the 21st century's brand of urban manufacturing," said Kate Sofis, Executive Director of SFMade. "Local manufacturing is once again taking its rightful place as a powerful actor in the fabric of our great city."
With its successful model, SFMade hopes to inspire other US cities to follow suit. In October, SFMade and NYC's Pratt Center for Community Development, and Citi Community Development launched the Urban Manufacturing Alliance (UMA), a multi-city initiative that will boost urban manufacturing and refocus economic development efforts on the sector as source of stable, high-quality employment opportunities. With $300,000 in funding from Citi, the UMA will provide a platform for urban manufacturing advocates from cities across the country to exchange ideas on how the sector can regain footholds in dense urban areas and help combat persistently high national unemployment.
Other Report Findings include:
MADE LOCALLY FOR RETAIL: SFMade manufacturers largely make products for sale to consumers, with 77% of companies selling direct through web sales and an additional 35% through company-owned physical stores.
PLACE MATTERS: At a time when 40% of companies are preparing to expand, pressure is being placed on San Francisco's already tight commercial real estate market. In 2012 alone, SFMade's Places to Make program, which works with manufacturers to find and lease (or buy) space, has placed 15 companies to date in spaces ranging from 500 sq. ft to more than 60,000 sq. ft.
SFMADE BRAND PLAYS INCREASING ROLE: As the collective SFMade brand of San Francisco manufacturers grows in recognition, local and national retailers are incorporating SFMade products into their offerings. San Francisco International Airport soon will launch three dedicated SFMade stores into its terminals and Banana Republic is about to replicate its popular SFMade pop-up shop at flagship locations in Chicago, Los Angeles and New York.
###
ABOUT THE REPORT
SFMade's 2012 State of Local Manufacturing Report is the result of SFMade's annual survey of local manufacturing companies. The report incorporates revenue and workforce data from the entire SFMade network (400 companies), complemented by further detailed data on workforce, sales, and supply chain data from 66 of the manufacturers, representing the full breadth and depth of the sector.
ABOUT SFMADE
Founded in 2010, SFMade is a non-profit organization uniquely focused on building San Francisco's economic base by developing the local urban manufacturing sector. SFMade's programs – spanning industry-specific education, business advising, industrial real estate assistance, hiring assistance and youth apprenticeships, and a nationally recognized local brand platform - currently support more than 400 local manufacturers who collectively sustain more than 3200 jobs for diverse residents of San Francisco. For more information, visit http://www.sfmade.org