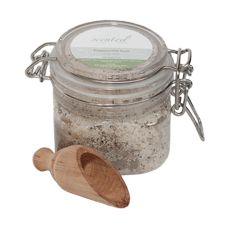 "Peppermint Cafe will really wake ya up. Leaves ya feeling refreshed and clean. Skin is soft and smooth. Love it." Texas Kitchen blog
McLean, VA (PRWEB) November 12, 2012
Scented announced the launch of their newly redesigned web site – http://www.ScentedCo.com – that extends the retail experience for customers of the popular bath, body, and home fragrance line.
Outside of the website, the Tysons Corner-based company sells largely through a system of consultants. While they've had success with this business model, in early 2012, the company decided to expand their distribution through an ecommerce website.
"Women are busier than ever, managing careers, family, relationships, and more," says founder Laura Faulring. "We want to make purchasing Scented products as easy for our customers as possible. We believe our new website will accomplish exactly that."
In addition to accommodating the lifestyles of the customers, Faulring also believes the website will assist her consultants. "By enhancing our brand's digital presence, it will help spread the word about Scented, introducing our products to more people than ever," she says. "This company has largely grown through word of mouth. People love to share and talk about our products – our digital presence should amplify that."
Scented has made available their complete line of products on the website, including bath salts, body crème, lip moisturizer, and their patent-pending Fragrance for Life Air Fresheners, which can be placed on almost any surface, like car door pockets, night stands, closets, and dresser drawers. Toxic-free and derived from nature, the Scented collection provides users with a scent-filled journey from morning to night.
About Scented
http://www.scentedco.com Scented began as a woman's journey to find a high-quality, convenient, and luxurious line of products to fill her life with scents she loved. Although some products smelled great, their ingredients left something to be desired. Harsh chemicals and hot surfaces disqualified most bath products and candles, so with a lot of motivation and a little ingenuity, Scented was born, emphasizing the holistic qualities and luxurious scents of essential oils. Today, the company employs a team of consultants and sells their product through ScentedCo.com.