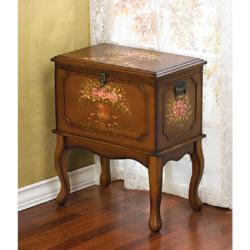 Looking for something special? "I'll give you One Hint"
(PRWEB) November 09, 2012
Introducing One Hint.com and until Christmas we have dropped our prices to wholesale. This is to ensure everyone can enjoy a great holiday season.
A handsome addition to any room, this expertly crafted cabinet features pink English roses painted in bloom on the top, front, and sides, along with fine details that are sure to make it a cherished family heirloom. The felt lining on the inside provides the perfect storage spot for your timeless treasures. This footed cabinet's authentic design is highlighted by a metal front latch and side handles that are finished with an antique patina.
This Colonial Tolle tradition lend enchanting old-fashioned beauty to this graceful "hope chest" cabinet! A sentimental safekeeping space for your dearest treasures, this footed chest features a generous felt-lined storage compartment, sturdy latch and side handles. An instant classic that's sure to become one of your favorite furnishings!
Click here to purchase this item: http://www.onehint.com/product.asp?dept_id=36040&pfid=39040