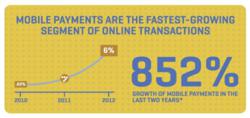 Boise, ID (PRWEB) November 08, 2012
Boise based Kount, Inc.'s fraud platform, Kount Complete™, is now available on the most popular mobile operating systems, Apple's iOS and Google's Android. Easily embedded into native mobile applications, the free SDK provides every feature available in current versions of Kount CompleteTM, enabling merchants and developers alike to detect and prevent fraud.
"As mobile commerce continues its hyper-growth trajectory, we expect fraud on mobile devices to increase substantially," said Steve Rouse, COO Kount. "Kount empowers online merchants to accept more orders. This SDK makes it easy for Kount customers to protect their business against fraudulent activity, no matter the device used or where the transaction originates."
Available now, Kount customers can contact their account manager for details on obtaining the mobile SDK. Non-customers can contact Kount for more details on both the SDK and the Kount platform.
About Kount
Kount helps businesses boost sales by reducing fraud. Our all-in-one, SaaS platform simplifies fraud detection and helps online businesses accept more orders. Kount's turnkey fraud platform is easy-to-implement and easy-to-use. Kount's proprietary technology has reviewed hundreds of millions of transactions and provides maximum protection for some of the world's best-known brands. Merchants using Kount can accept more orders from more people in more places than ever before. For more information about Kount, please visit http://www.kount.com.