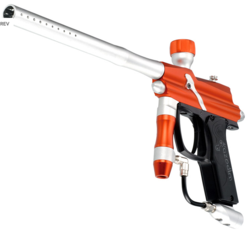 Azodin paintball guns are fast dependable and they look good to
morgan utah (PRWEB) November 08, 2012
Action Center Paintball, a top reseller of cheap paintball guns and gear online, is introducing the Azodin paintball gun line in their annual paintball Christmas super sale. This is one of the most popular paintball guns around, and people are really looking for the cheapest prices online. The option makes this amazing paintball gun affordable, just in time for Christmas gifts for paintball fans. They are on limited supply.
"We pride ourselves on the best paintball prices online and best selection," explained Jeff Wilkinson, owner of Action Center Paintball. "Azodin product brings a cheap, affordable paintball gun into the reaches of many paintball fans. So we are really excited about this special price offer."
To learn more, go to http://www.actioncenterpaintball.com
Azodin ATS plus $109.99
The Azodin ATS+ Paintball Gun provides players who prefer intensive realistic feel and looks with amazing prices offered by Azodin. The Azodin ATS+ comes with all the standard features of the ATS and also includes athree position collapsible stock and a two position collapsible shroud , which also has four polymer rails on each side of the shroud to maximize your customization. The ATS+ also comes with a M16 vertical handle.
Features:
Semi-Automatic Military look
High Grade Aluminum body
Digital Camouflage Finish
Integrated Top Rails
Dual Polymer Side Rails
Top Cocking Quick Release Delrin Bolt
12 inch Spyder Threaded Barrel
Polymer Screw Lock feed adapter
Dual Ball Detents
Aluminum Cartridge Foregrip
Durable Polymer Grip Frame
Dual Finger Trigger
Non Slip Rubber Grip Panels
Operates on Co2 or HPA
Azodin Kaos Paintball Gun Black $88.99
Developed with the highest standard in mind, Kaos incorporates the latest technological breakthrough. The new "Feather Striker System" is 30% lighter than the traditional striker design. This breakthrough reduces the mechanical recoil and allows the Kaos to be the smoothest handling semi-auto on the market.
Overall length and profile of the receiver body has been engineered to be shorter and lower. This compact design makes the Kaos one of the lightest markers available. Kaos gives players the confidence and competitive edge needed on the field of battle.
Specifications
Weight: 955 Grams / 2.1 Lbs
Length: 464.5 MM / 18.29 Inches
Height: 225.5 MM / 8.88 Inches
Width: 33 MM / 1.3 Inches
Barrel Thread: Autococker compatible
Feedneck Thread: Ion / Impulse compatible
Gas-Thru Foregrip Thread: Standard ASA
Action Center, LLC announces new website release. Action Center is a locally owned paintball company and announced today that it will be implementing live http://www.paintballguns.tv. Company officials are expected to see increased sales through this Christmas season
Action Center owners expect this new release to improve investor confidence and widen its customer base, and to increase the purchasing power and to allow for better sales and increased savings to the customer
For more information visit the new site: http://www.paintballguns.tv