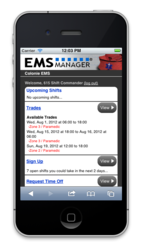 There are four significant updates to our mobile app. All the updates are for functionality on the administrator end of the system.
Minneapolis/St. Paul, MN (PRWEB) November 08, 2012
According to a September 2012 study by Pew Research Center, 44% of adults own a smartphone, and the number of tablet owners grew by about 50% since the summer of 2011. With this rapid growth within the mobile market, application developers everywhere are being forced to adapt. Aladtec is no exception.
"When we developed the first version of our online employee scheduling system back in 2002, we never imagined it would someday be used on web enabled smartphones or tablets," shares David Feyereisen, co-founder and CEO at Aladtec. "Now, 10 years later, nearly 50% of our 50,000 users access EMS Manager, FIRE Manager and Zanager through a web enabled mobile device." This statistic from Aladtec is right in line with what the Pew Research Center study discovered.
"When we first built the mobile version of our app we weren't even sure if our customers would use it. It's hard to believe in hindsight, but at the time customers weren't demanding a mobile version," added Feyereisen.
To keep up with the demand for mobile system accessibility Aladtec keeps a team of software engineers devoted to continually enhancing the mobile web app for their growing customer base.
This newest update was primarily for the administrators who do scheduling, certification tracking, disseminate information and manage payroll within an agency. "There are four significant updates to our mobile app. All the updates are for functionality on the administrator end of the system. Admins can now process trade requests, sign up requests, time off requests and send "find coverage" emails from their smartphone or other mobile device," explains Justin Stolpe, Software Engineer, Aladtec.
The International Data Corporation (IDC) predicts that by 2015 U.S. Internet users will access the Internet more through mobile devices than through personal computers. As for mobile apps, Apple recently announced 35 billion apps have been downloaded from their App Store. And it is estimated that just over 25 billion Android apps have been downloaded. As these trends continue, SaaS (Software as a Service) companies, such as Aladtec, will need to continuously evolve their applications to meet the demands of the new mobile workforce.
Aladtec, Inc. is a proud provider of web-based software solutions for online employee scheduling and workforce management applications. The company's flagship products, EMS Manager and FIRE Manager, are leaders in the public safety sector. Together with their newest product, Zanager, they serve over 850 EMS agencies, fire departments, police departments and other businesses. Over 50,000 employees use Aladtec's online employee scheduling and workforce management products. Aladtec is headquartered just outside the Minneapolis/St. Paul metro area in Hudson, Wisconsin. For more information, visit http://www.aladtec.com.
# # #
CONTACT INFORMATION:
Aladtec, Inc.
906 Dominion Drive
Hudson, WI 54016-4538
(888) 749-5550 Toll-Free
(715) 690-2300 Phone
(801) 406-5550 Fax
mellissa(at)aladtec(dot)com
info(at)aladtec(dot)com | http://www.aladtec.com