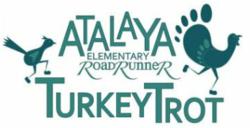 Santa Fe, NM (PRWEB) November 07, 2012
Start Thanksgiving Day off by supporting education for elementary school kids and get home in time to prepare the big feast, catch the game or relax with friends and family. The 5th annual Atalaya Elementary Roadrunner Turkey Trot, Thursday, November 22th, 9 a.m., benefits the Atalaya Elementary School Parent Teacher Association (PTA). This event is on Santa Fe's top on-line visitor guide SantaFe.com.
The Atalaya Turkey Trot includes a 5K race and a 1K fun run that wind throughout the hills of the historic eastside of Santa Fe. Great prizes, pumpkin pies, and awesome T-shirts are among the rewards, not to mention the camaraderie of over 500 hundred runners including locals, visitors, and out-of-town guests. All children participating in the 5K and 1K will receive medals. Promoting the joy of running and encouraging participants will be members of the AmeriKenyan Running Club. The club's mission primary mission is promoting good health through running, jogging or walking.
What: Atalaya Elementary Roadrunner Turkey Trot, 5K Run and 1K Fun Run. To register go to http://www.atalayaturkeytrot.com or register in person at NM Bike N Sport. Race Day Registration- 7:30 a.m. to 8:30 a.m. at Atalaya Elementary.
When: Thanksgiving Day, November 22, 2012, 5K begins at 9 a.m., 1K begins at 10 a.m.
Where: Atalaya Elementary School, 721 Camino Cabra, Santa Fe, NM
Contact information
Cheryl Farrar – 505-660-1991
Email: CherylFarrar at aol dot com
http://www.atalayaturkeytrot.com
About SantaFe.com:
SantaFe.com provides locals and visitors to Santa Fe alike the most current interactive platform for events, music, arts, business, dining and lifestyle. SantaFe.com is a division of Hutton Broadcasting, located at 2502 C. Camino Entrada, Santa Fe, NM 87507
Contact Information:
Scott Hutton
SantaFe.com / Hutton Broadcasting
http://www.santafe.com
(505) 471-1067 (Media inquiries only, please)