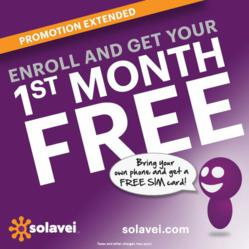 Grimes One Media has gotten behind Solavei™ because we believe in the product, its model, and platform. We understand how effective word of mouth marketing is.
Atlanta, GA (PRWEB) November 09, 2012
Unlike other wireless carriers that spend millions of dollars advertising and marketing their brand, Solavei™ has taken a less expensive approach utilizing the power of word of mouth and viral marketing to position its brand in the mind of consumers. Launching on September 21st in Bellevue, Washington, the Company now boasts 45,000 new 4G wireless customers getting 4G unlimited talk, text and data for $49 per month with no contract and no credit check. Solavei™ plans to open Internationally in 2013.
The word of mouth and viral marketing approach has gotten people talking. And Grimes One Media just as excited to spread the word about a brand they know has great potential to be beneficial to Solavei's end user - the consumer. With the announcement of a new promotion "Are You Ready for Free" - consumers who enroll three new members by October 31st gets one month of service entirely free. This is why it pays to be a part of a brand that's worth talking about.
"Grimes One Media has gotten behind Solavei™ because we believe in the product, its model, and platform. We understand how effective word of mouth marketing is. And now with the Internet, viral marketing has allowed companies like Solavei™ to take advantage of the social networking platforms to reach a target market it normally couldn't without spending millions of dollars doing so like bigger wireless carriers," says Xavier Grimes, owner of Grimes One Media. "Not only that, the concept to pay your subscribers to market your brand is beyond brilliant, that's something companies don't do, and would find it odd doing."
Word-of-mouth-marketing has made a great impact on increasing awareness to products and brands associated with them. Every day consumer's talk about products associated with multi-billion dollar companies who reap the reward of their free advertising and marketing. However Solavei™ has discovered how to give consumers the one incentive they need to connect with them; they pay consumers for talking about their brand. How? Simply by compensating them for enrolling their personal network of friends and family onto Solavei's 4G Unlimited Talk, Text, and Data mobile service for only $49 per month? Consumers who are interested in Solavei may visit http://www.your4gmobileservice.com.
This overall approach to marketing has given Grimes One Media the urge to push the brand beyond its boundaries'.
About Grimes One Media
Grimes One Media is one of Atlanta's premier marketing firms, with a new understanding on marketing. Established in 2003, Grimes One Media's objective has been to provide quality but simple marketing services to small businesses. These services varies from street marketing, viral marketing, too web and graphic design. The primary focus of the company is brand awareness. Grimes One Media is an Independent Solavei™ Social Member, not an employee or agent of Solavei™.
About Solavei™
Solavei™ is a social networking and commerce platform that enables users to connect, share, and capitalize on the power of social networks. Solavei's mission is to make commerce less expensive by empowering individuals to earn income on the products and services they enjoy and use every day. Solavei's initial product offering is affordable, no-contract, unlimited voice, text, and data services throughout the United States. Atlanta is part of an 11 city tour that includes Florida, Georgia, the Carolinas and San Juan
Puerto Rico.
About Solavei™ Dream Team
The DREAMTEAM.fm is one of the premier organizations, in Solavei – consisting of some of the top minds in the world of business, marketing, training, business coaching & entrepreneurship.