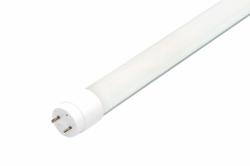 (PRWEB) November 20, 2012
Zhongtian Lighting, a manufacturer of high-performance LED lighting products, adds a new model to their line of T8 LED Tube Lights. The new model [ZT-F0815-33623B] gives consumers a five feet long (1500mm), 23 watt, high-performance LED tube light that is a direct replacement for 45W traditional T8 tubes with an AC voltage range of 85-264V. This new release gives customers the option of five feet long tube lights as well as 2400mm models. Zhongtian Lighting continues to successfully build on their commitment to providing consumers with many options to meet various lighting needs and offering products that are innovative and environmentally-friendly.
By using brand LEDs, the LED tube delivers 1700-1900lm at only 23 watt. It offers operators a lighter fixture weight, 50,000 hour lamp life, lower power consumption, excellent resistance to vibration and impacts, and high output and light quality that improves workplace safety and productivity. Besides, this model is UL, CE and RoHS approved, making them ideal for use in the petrochemical industry, and marine applications requiring this level of protection.
Zhongtian Lighting has been expanding quickly with consumers embracing their numerous lines of high-quality LED tubes that offer dust-free lighting and several innovative options, like their easy-to-operate on/off switch-dimming feature. The T8 LED Tube Lights are by far the most popular, to date, and are used in a variety of ways, ranging from lighting staircases, offices, and factories, to billboards and advertisements. The products which is also popular are the MR16 spotlight LED bulbs as well as the LED high bay light.
Zhongtian Lighting is excited to see their product lines being used to make other businesses more successful and at the same time benefiting society as a whole by offering lighting products that have longer lifetimes and higher energy-saving levels, as compared to traditional lighting products, and that emit no harmful UV or IR radiation and contain no hazardous materials such as mercury. As an up-and-coming LED developer and manufacturer, Zhongtian Lighting is excited and encouraged by consumers' positive response to current product lines. It remains committed to offering the highest quality LED lighting solutions. To learn more about Zhongtian Lighting's case-studies and their customers' application of products, please visit the company website at http://www.ztlights.com.