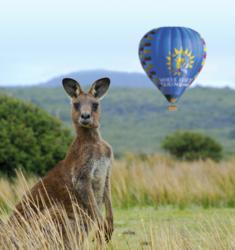 See the 2012 Solar Eclipse Live on November 14th at www.HotAir.com.au
(PRWEB) November 10, 2012
Up to a dozen hot air balloons floating west of Cairns, Queensland Australia, with visitors from 20 different countries will be part of a live webcast of the 2012 total solar eclipse, see it at http://www.hotair.com.au
Local business, Hot Air Balloon Cairns' daily flight path just happens on November 14th 2012, to be one of the prime viewing spots for visitors and umbraphiles (eclipse chasers), as per predictions by Fred Espenak of NASA's Goddard Space Flight Centre, generated using the VSOP87/ELP2000-82 solar and lunar ephemerides and a value of ΔT = 67.9 seconds.
Hot Air Balloon Cairns Managing Director, Andrew Steel said it's expected the balloons will fly to a height of 1000 to 3000' above ground level, (plus 900 feet above sea level) dependant on the breeze and conditions on the day with the balloons taking off at dawn.
The eclipse casts a shadow that moves across the Earth's surface in what is called the Path of Totality with the fleet of hot air balloons floating in the Path. It's anticipated that the spectacle of the Australian themed hot air balloons; the Koala, Kangaroo and Aussie balloons in particular will give off a glow, lighting up like giant lanterns over the Australian landscape that will be quite remarkable.
The balloons will launch at Mareeba, about 40 km inland from the Australian coast line giving the hot air balloon passengers the highest chance of an unobstructed view of the Eclipse itself. On-board will be visitors from all over Australia, USA, Germany, China, the UK and Japan with a team of filmmakers and photographers onboard that will capture the event live.
Beginning after dawn on the morning, the solar eclipse shadow will sweep across the Gulf of Carpentaria and Cape York, before the central line crosses over the Great Barrier Reef and the Coral Sea with the actual peak viewing time of the total Eclipse itself at 06.38 to 06.40 AEST with views dependant on the exact longitude and latitude of flight path and height of each balloon. Those very lucky passengers, experiencing this once in a lifetime event, will be hot air ballooning for approximately an hour before coming back to earth to celebrate the 2012 eclipse with a champagne breakfast.
Any bloggers, writers, journalists or websites wishing to make use of the exclusive images and footage from the the November 2012 Solar Eclipse are welcome to do so. The imagery and footage will be made available at http://www.hotair.com.au/eclipse.