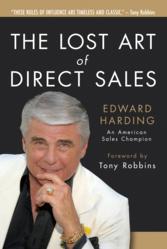 Destin, Florida (PRWEB) November 09, 2012
"If you redistributed all of the wealth in the world," says Edward Harding, "In ten to twenty years, the same people would find a way to re-accumulate it." As we wind down from an election in which President Obama and Mitt Romney argued endlessly about the distribution of wealth and about the ways to save our still sagging economy, Harding, an American sales champion and self-made multi-millionaire, has a clear message, delivered via his new book "The Lost Art of Direct Sales": The ability to create wealth can be learned, and "a new generation of entrepreneurs can save America."
Harding is looking to do his part with a book that teaches how to create wealth through the purest and most age-old method known to man: Sales. "The fact is, sales is the highest paid profession in the world," says Harding.
Harding claims he wasn't a born salesman - he started with nothing, "driving a 1957 Desoto that had to be started with a screwdriver" and eventually built a net worth in the mid-eight figures. He learned the craft of sales, honed it, mastered it, and ultimately became a guru, mentoring men such as internationally known motivational speaker Tony Robbins, who has written the foreword to Harding's book.
Robbins says of Harding, "I really believe that Ed's success, along with his skill, is his pure intent. He's a man who (has) spent decades helping others."
The book is quickly developing a strong reputation among entrepreneurs and sales professionals. Dan Vega, often referred to as "America's #1 Results Guy," says, "Ed Harding has provided the most complete and practical sales guide I have ever read. You will get powerful and proven tips and techniques that will help you in your business immediately. You won't be able to set this one down."
For more information about "The Lost Art of Direct Sales" visit http://www.bushpublishing.com.