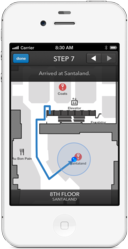 "We were excited to be the first integrator of the Meridian SDKs. As more retailers realize the benefits of indoor location I see this trend continuing." - Greg Raiz, CEO of Raizlabs
Portland, Oregon (PRWEB) November 08, 2012
In July 2010, the American Museum of Natural History was the first venue in the world to launch an iPhone app with an "indoor GPS" experience. Now, Macy's is the first retailer to update an iPhone app with the same indoor positioning and navigation capabilities.
To see the indoor navigation technology in action, download the free Macy's app in the Apple App Store. Search for the "Herald Square" store and an indoor navigation experience specific to the store will be provided. Use the search tool or tap on the "map" feature to discover departments, brands and other points of interest. These points of interest on the map will have "Take Me Here" buttons that can be tapped for receiving turn-by-turn directions. Only visitors to Herald Square with the iPhone app will see the glowing "blue dot" on the map to aid their navigation. A version for Android users will be launched soon.
Meridian, the mobile-software company powering the underlying technology for both the Macy's app and the American Museum of Natural History Explorer app, announced today they're offering this indoor positioning and navigation to other developers of apps. Third-party developers can use Meridian's newly available software development kits (SDKs), called NavKit and BluDotKit, to implement Meridian's turn-by-turn directions and patent-pending capability to simulate GPS indoors. The two SDKs have been privately beta-tested and shaped by not only Macy's and their developers, but also a hospital (Miami Children's Hospital) and an airport (Sydney, Australia's).
How Other Locations Use Meridian's SDKs
Miami Children's Hospital is using Meridian's SDKs to update their app with the ability to not only inform visitors where they are located, but also give them turn-by-turn directions to hospital departments and facilities.
"Miami Children's Hospital was ahead of the curve in the healthcare industry by launching an iPhone app early on," said Jason Shavelson, manager of web and software development at Miami Children's Hospital. "Now, we are staying ahead of the industry by being the first hospital to select Meridian to add both indoor turn-by-turn directions and the 'blue dot' to an iPhone app."
According to Dr. Bruce Krulwich, research analyst for Grizzly Analytics, "Indoor location technology has been slow in coming to market, despite dozens of companies working on it, because of technical limitations that prevent it from running on iPhones. Meridian's network-centric approach is the first to run as well on iPhone as on Android. It gives site managers more information about which areas of the site their customers are interested in. This information is invaluable as sites try harder to understand their customers and how to serve them better."
NavKit SDK Overview
Previously, Meridian's indoor positioning and turn-by-turn directions functionality had been available only to customers building apps from the ground up with Meridian's proprietary content management system, the Meridian Editor. Now, locations with existing apps built in-house or with third-party developers can use Meridian's SDKs to add select indoor-navigation elements to their mobile experiences.
Location-based businesses that simply need Meridian's turn-by-turn directions – found in apps for a large variety of locations from the Venetian in Las Vegas to the Metropolitan Transit Authority in New York City – for their existing apps can license Meridian's NavKit SDK. NavKit is intended for locations who not only want turn-by-turn directions for their apps, but also a content management system such as Meridian's for making frequent changes to the mapping, routing and associated branding. NavKit relies on the regular Internet connectivity (cellular or wifi) of a smart phone to stay up to date and does not require any additional hardware installation.
BluDotKit SDK Overview
Because satellite GPS does not work well indoors, Meridian has discovered how to simulate the effect of GPS indoors for both iOS and Android. Meridian's BluDotKit SDK now allows app developers to provide the glowing "blue dot" on the map experience in their mobile apps for venues. The company achieves indoor positioning across operating systems through a patent-pending approach to utilizing location information provided by a venue's wifi hardware.
BluDotKit can be used together with NavKit in order to have both the "blue dot" and turn-by-turn directions, or alone in smaller venues where turn-by-turn directions are unnecessary. Because apps using the BluDotKit achieve accurate indoor positioning, enterprises can allow their visitors to opt in to location-based offers and contextual information.
The Meridian Difference
"While there are vendors offering indoor-positioning experiences for Android, mobile-development experts know this has not yet been widely available for iOS. Meridian's patent-pending and proven solution is the first ever to provide an 'indoor GPS' experience for both iOS and Android," said Kiyo Kubo, Meridian's CEO.
And, unlike typical map apps, Meridian offers all customers a content management system that puts control back in the hands of the location-based businesses. These retailers, hospitals, airports and other locations (ranging from simple to complex) want to make frequent changes to their apps' mapping, turn-by-turn directions and the associated branding. As layouts of buildings change, location-based businesses know that having the ability to quickly and easily modify a location-based app is crucial.
Meridian's Developer Partners
For interested location-based businesses without software development staff, Meridian can recommend mobile-app development partners with the technical abilities to deploy the SDKs.
Greg Raiz is the CEO of Raizlabs, a development partner who has integrated Meridian's SDK into apps. "Our company, Raizlabs, has worked on a number of location-based projects but this is the first time we're able to track location indoors in real-time," said Raiz. "We were excited to be the first integrator of the Meridian NavKit and BluDotKit SDKs that gave us this capability. As more retailers realize the benefits of indoor location I see this trend continuing. Meridian has been a great partner and we look forward to re-shaping the way we navigate together."
Availability and Pricing
Developers can sign up for the public beta of the BluDotKit and NavKit SDKs at http://www.meridianapps.com. Developers currently working on apps on behalf of locations will be given priority access in an effort to assist those under deadlines.
The BluDotKit and NavKit SDKs are included free of charge with a paid license to Meridian's content management system. Please contact sales@meridianapps.com for more information.
High-res screenshots of the Meridian-powered turn-by-turn directions and "blue dot" in the updated Macy's app can be downloaded at: http://cl.ly/3F29121w333g
About Meridian
With offices in Portland, Ore. and San Francisco, Meridian is an enterprise mobile software company. Meridian offers locations – retailers, stadiums, hotels, hospitals, etc. – the first content management system they can use to take control of their location-based services. The founders of Meridian bring to the company 10 years of experience working with enterprises on location-based mobile apps including those for Barnes & Noble, the Venetian Hotel-Resort-Casino, the American Museum of Natural History, and the New York City transit system. You can learn more about Meridian at http://www.meridianapps.com.
For more information, please contact:
Jeff Hardison, VP
Meridian
503.757.7311 (mobile)
jeff@meridianapps.com