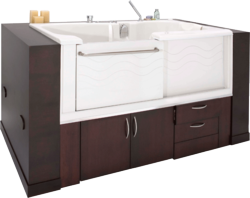 The ADL transfer bathtub is one of the most functional handicap bathtubs on the market and it gives our customers another option beyond traditional walk in bathtubs.
Denver, CO (PRWEB) November 08, 2012
Aging Safely Walk In Bathtubs, a provider of safe, affordable bathing options for mobility impaired individuals and seniors, is pleased to announce the addition of the ADL Spa transfer bath to their growing product selection. The ADL Spa walk in tubs offer many standardized safety features, but they also boast many options for customization so that the handicap bathtubs can satisfy individual needs and preferences.
The ADL Spa is an elevated walk in tub that makes independent, safe bathing accessible for wheelchair bound bathers or those with extremely limited mobility. The transfer tub allows individuals confined to a wheelchair to be at exactly the right height to maneuver from a wheelchair seat to the tub without assistance. Four interior grab bars make it easy for bathers to safely enter the tub and enjoy bathing with independence. Many paraplegics, wheelchair bound customers, or patrons that use walkers choose a walk in shower because they can access it, but this specialized transfer tub preserves the ability to independently enter a walk in bathtub and enjoy soaking.
Zach Wennstedt, Founder of Aging Safely, said, "Getting into and out of walk in tubs or hydrotherapy walk in bathtubs is usually the most difficult part of bathing for many customers. The handicap grab bars and optional harness and seat belt system make the ADL Spa ideal for customers who may have difficulty entering traditional walk in tubs that are standard height. Additionally, this is a fabulous tub for caregivers who do not want back pain from bending over a low tub."
Customers who want the therapeutic benefits of hydrotherapy can add an optional 7-jet whirlpool system that has massage jets positioned to soothe muscles in the back, legs, and feet. Those who prefer a gentler massage sensation in their hydrotherapy tubs can choose the optional 15-jet air massage system that can also potentially soothe aches, increase blood circulation and provide other benefits of hydrotherapy, including reduction of inflammation. The elevated height of the ADL Transfer Tub makes the benefits of hydrotherapy accessible to customers who thought they could only access a roll in shower. Customers can also add an optional Safety Plus system that includes thermostatic controls, an anti-scalding device. A digital electronic temperature display is another option available
All ADL Spa tubs also include a right or left-hand side sliding door with a safety latch. Customers will also relax in comfort with a contoured neck pillow. The handicap bathtub comes standard in white and is complemented by functional white cabinets that provide extra storage. Additional cabinet colors are also available. Aging Safely has expanded its product selection to include the ADL Transfer Tub, so it can offer safe bathing solutions to more people who need unique bathroom safety solutions.
Contact Information:
Zach Wennstedt
1-888-779-BATH(2284)
info (at) agingsafelybaths (dot) com