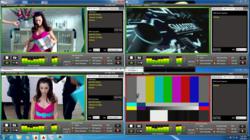 Clearwater, Florida (PRWEB) November 08, 2012
Vela Research announced the introduction of an ASI version of the ArgoNavis MultiViewer, Monitor and CALM Act solution, to augment its widely-deployed SDI version for user environments requiring an ASI interface.
Vela's ArgoNavis solutions are elegant, compact, easy-to-deploy and integrate systems that provide a full set of 608 and 708 Closed Captioning, VANC and metadata capabilities, analog, SDI, and ASI interface options, and intuitive user-interfaces allowing local and remote control and convenient integration into operators' existing workflow.
The ArgoNavis Multi-Viewer, CALM Act solution and Operational Quality Assurance system provides a cost-effective solution for call letter stations, Station Groups, and Cable Networks to ensure the quality, integrity and regulatory compliance of their programming content. It also provides a full-fledged set of LKFs capabilities, measurements, alerting and logging features to allow operators to comply with the CALM Act. It enables operators to view, monitor, log, record and analyze video and audio content and levels for multiple channels simultaneously in real time. One key element of the functionality of these solutions is a robust ability for LKFS measurements, analysis, real-time monitoring and action – as well as elaborate, continuous and comprehensive logging to create the records and documentation crucial to proving compliance if you are ever audited by regulators or receive a complaint from the viewership.
The ASI version provides an ASI input (BNC) for MPTS or SPTS MPEG-2 or H.264 program video streams. The ArgoNavis system allows operators to monitor multiple video streams in real-time with a "snapshot" feature that enables them to capture a specific video frame as a bit map for reference, distribution or discussion. Eight (8) channels of embedded audio can be monitored per channel with real-time amplitude and LKFS measurements provided for each programming source for confidence monitoring and CALM Act compliance. For each of the programs being monitored and viewed, the logging function logs date and time stamped data of LKFs loudness measurements up to every 100 milliseconds for proof of compliance.
The comprehensive, multi-featured aspect of the ArgoNavis solution eliminates the time, expense and disruption of re-capturing or monitoring video content in order to measure, monitor or analyze different aspects of the video such as 608 or 708 Closed Captioning, Audio Metadata, audio levels and LKFs measurements – and provides operators with much greater flexibility and capabilities than ever before.
Operators can request further information and spec sheets on Vela's solutions here. For further information or to test-driving these solutions, please contact Kevin McDowell at 954-558-2063 (kmcdowell(at)vela(dot)com) or Bill Bennison at 703-963-5184 (bill.b(at)vela(dot)com).
About Vela: Vela® is an Emmy® award winning company offering a complete range of high quality SD and HD products for the broadcast, cable, post production, enterprise and education markets. Vela designs and manufactures system and board level solutions used in a variety of media applications. The board level products are also integrated into advanced systems and video servers offered through Vela and its partners. Over the past 18 years, Vela has earned recognition by virtue of the trouble-free, high-performance and cost-effective solutions in use in demanding customer environments worldwide. Vela is based in Clearwater, Fla., USA, and is on the web at http://www.vela.com.