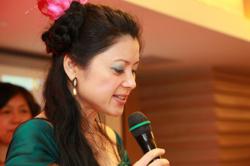 Matchmaking works. Most people do not know how scientific the process is.
Los Angeles, CA (PRWEB) November 09, 2012
According to a Pew survey, 20% of young adults are postponing marriages due to concerns about the economic slowdown. This percentage of married young adults (18 -29) is at an all-time-low compared to the 59% in 1960.
Postponing babies seem to be the trend as well. Bloomberg News reported that births in the US have fallen since 2008, reaching a 12-year low last year. It is also the smallest population gain since World War II.
However, an unorthodox matchmaker is getting couples to say "I do" despite of the economy.
"Getting married strengthened a person's drive to produce better and thus it helps the economy."
Recently, two American economists won the prestigious Nobel Prize in economics for applying the matchmaking process in scientific ways, for example in the medical field of matching compatible kidney donors with recipients, getting students to be admitted to the right college and matching job seekers with employers.
Alvin Roth of Harvard University and Lloyd Shapley of the University of California Los Angeles won the Nobel prize for exploring how matching procedures can be improved to produce better results for all concerned.
Roth seized on a 1962 study by Shapely that proved the traditional workability of matchmaking: making stable matchings between men and women so no one wants to run off with another partner.
Bestselling author and matchmaker Hellen Chen from Los Angeles, California said, "Matchmaking works. Most people do not know how scientific the process is."
Chen applied her theory of matchmaking to even men and women who were most unlikely to get married.
"The computer nerd and even the 40-year-old virgin all have the chance to meet their perfect match and live a happy married life" said Chen, citing from stories of real-life individuals she has personally counseled.
In fact, unlike ordinary matchmakers who usually bring together men and women who are looking forward to get married, this unorthodox matchmaker has brought together numerous men and women who had lost faith in relationships, resistive about love and who had basically given up on the possibility of experiencing a good marriage life.
Chen wrote about these real-life stories of couples in her book, The Matchmaker of the Century. This book was launched on Barnes and Noble recently and subsequently striking a chord with readers, it achieved #1 bestselling status in 6 categories: marriage, self-help, relationships, love and romance, self-improvement and parenting and family.
When asked about recent survey that revealed the economic slowdown making young Americans postponing their marriages, Chen, who is now a regular guest on national radio and TV shows added the good news, "Marriage will help improve finance. A couple will gain financially by getting married."
Chen thinks that helping young people to understand marriage will help them to succeed at it. This can only help to strengthen economics and ensuring that the future of society is there.
"My job as a marriage consultant and matchmaker is not just to help individuals. It is helping our nation's way of life to continue and to thrive as well." Chen proudly concluded.
###