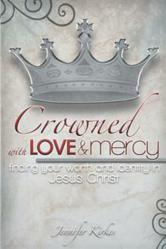 God's great love for us is unconditional. This is the stuff that transforms us and brings substance to our lives!
Denham Springs, LA (PRWEB) November 09, 2012
Author Jennifer Kirkes offers a powerful testimony to the blessings that God has bestowed on her life in her inspirational new book, "Crowned with Love and Mercy: Finding Your Worth and Identity in Jesus Christ" (published by CrossBooks).
Written for a female audience, "Crowned with Love and Mercy" is a Bible study written specifically to draw women into the Bible to discover truth for themselves; the result will be a lasting, meaningful relationship with Jesus Christ.
Kirkes explains the relevance of "Crowned with Love and Mercy":
"We live in a culture which dictates the characteristics that bring us significance. The voice of our culture, through many different avenues, tells us what to believe, what to value and what makes us important – yet this voice is constantly changing. This can leave us feeling confused and insignificant. Because of this, we should listen to only one voice: God's. He is unchangeable and eternal! He created each one of us, which demonstrates that He has placed great value on us and priceless purpose within us. The reader will find the transforming love of a perfect Father, and stability in our unchangeable, eternal God."
Kirkes implores women to look past the roles and expectations that modern society places on them and look to God when evaluating their self-worth. This kind of empowerment has the potential to be life-changing for readers, and Kirkes' infectious enthusiasm is a resounding testament to the transformative power of a strong Christian faith.
"In Jesus, we find our identity as daughters of God; that identity is eternal and never-changing," Kirkes asserts. "God's great love for us is unconditional. This is the stuff that transforms us and brings substance to our lives!"
About the Author
Jennifer Kirkes has been ministering in various areas of her church for 20 years. Her passion is to inspire others to discover their identity in Christ while developing a deep, abiding relationship with him through the study of His Word. Kirkes is a wife and mother of two sons and resides in Denham Springs, La., where her primary ministry is her family and home. This is her first book.
CrossBooks, a division of LifeWay Christian Resources of the Southern Baptist Convention, is a Christian publishing imprint committed to bringing more Christian voices into the publishing industry. Established authors, first-time authors, and authors anywhere in between can meet their goals and fulfill their vision for their books by publishing with CrossBooks. CrossBooks' innovative style of publishing blends the best of traditional and self-publishing. While our authors contribute monetarily to cover the cost of publishing, we maintain a strict moral and quality standard that every manuscript must meet for us to publish. For more information on publishing your Christian book with CrossBooks, log on to crossbooks.com or call 1-866-879-0502.