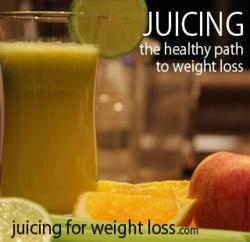 Juicing, when done right, helps your body saturate with nutrients and antioxidants that help your body work better and keep your cheating in check by reducing cravings
San Diego, CA (PRWEB) November 08, 2012
Juicing for weight loss has had a controversial past with the advent of Hollywood inspired juice cleanses and juice fasts that few can follow. However, traditional juicing has emerged from the controversy to be a tried and true healthy strategy for losing and keeping the pounds off.
"Juicing, when done right, helps your body saturate with nutrients and antioxidants that help your body work better and keep your cheating in check by reducing cravings;" stated David Lawrence of JuicingForWeightLoss.com, a website dedicated to juicing which just recently surpassed 1 million unique visitors.
Countless dedicated juicing devotees have embraced juicing as the weight loss answer when all else has failed. Mr. Lawrence went on to say, "We have countless emails flooding in about how much weight people have lost by just incorporating juicing into their daily routine."
Juicing can help support the body for weight loss and fat burning in a number of ways including reducing cravings, delivering bio-available nutrition, supporting the fat burning processes, flushing toxins, and reducing overall acidity in the body.
Often times the cause of cravings for sweets is because the body is starving for the nutrients that are unfortunately missing from the modern diet. Additionally, as the body ages, it also becomes more difficult to digest and properly absorb the same level of nutrition from solid food.
Fresh juiced fruits and vegetables are full of vitamins, minerals, anti-oxidants, and live enzymes that are readily bio-available to the body. When the body has the essential nutrition or building blocks it needs, it will also begin to function better. For example, carrots are high in nutrients such as vitamin B, C, D, E, K, beta-carotene and can help stimulate the adrenal glands, which helps support fat burning.
Often overlooked is the importance of enzymes in the diet. Cooked and processed foods often contain little or no enzymes. Enzymes, such as those found in fresh fruits and vegetables, are the catalyst for the hundreds of thousands of chemical reactions that occur throughout the body some of which support metabolism of fats and carbohydrates.
Juicing recipes containing particular fruits and vegetables such as ginger, papaya, pineapple, mint, carrot and fennel can also have a positive effect on digestion, which can have an impact on weight loss. Improper digestion is commonly sited as a common cause of weight problems.
Incorporating juicing into any diet plan can be as simple as purchasing an inexpensive citrus juicer and squeezing fresh grapefruit juice with a small orange to help sweeten it up with breakfast. For those interested in juicing vegetables and greens, there are countless juicing machines on the market that are reasonably priced.
To learn more about juicing for weight loss and healthy fresh fruit and vegetable recipes visit: http://www.juicingforweightloss.com .