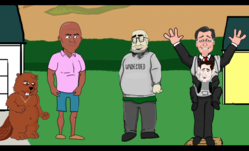 "With a positive message, "Man Man Beaver" tells us to stand up for our rights,"  said star Sam Seder.  Seder is the producer and host of Majority Report.
Los Angeles, CA (PRWEB) November 08, 2012
YaSu Media is proud to the announce that legendary comedian Tom Arnold headlines the all-star cast of "Man Man Beaver," as the voice of Beaver, an acerbic, politically active gay mammal fighting for the right to marry both of his biracial gay male companions. 
"Man Man Beaver" is the World's first animated cartoon series following the adventures of a Polyamorous Beaver and his marriage to lovers, Thomas and Julian, whose voices are portrayed by Sam Seder and Nathan Lee Graham respectfully. The first episode is available for viewing at http://www.ManManBeaver.com. 
 
Inspired by Rick Santorum's comment about gay marriage being one small step away from bestiality and polygamy, "Man Man Beaver" takes that step down the aisle as a political satire series about a Bi-racial Gay Couple and an angry and disorderly Beaver who seek to live in holy matrimony (yes, all three of them) and become entangled with the world of problems facing such a diverse union. In the pilot episode "I'm With The Black Guy",  Beaver's lover Julian, who happens to be African American, runs against Mitt Romney in his next campaign to be the mayor of small town of Gay Street. Predictably, mayhem ensues.
 
"Man Man Beaver" is the brainchild of Co-Creaters Josh Sugarman and Brandon Yankowitz of YaSu Media, the team behind the award winning feature film "TROPHY KIDS" and the upcoming film "DEAR FRIENDS, WITH LOVE".  They are producing the series with an eye towards placement on a major cable network similar to the success of "Sanctuary" (SyFy) which started life as a groundbreaking web series.
 
"With a positive message, "Man Man Beaver" tells us to stand up for our rights,"  said star Sam Seder.  Seder is the producer and host of Majority Report and is a political comedian who is well-known from hosting four hit shows on Air America as well as being as a frequent guest host for Countdown with Keith Olbermann on MSNBC. Seder regularly appears as a pundit for CNN, CNBC, and MSNBC.
Nathan Lee Graham is an American cabaret artist, stage, television and film actor, singer, writer and director. His roles in feature films include Todd in Zoolander, Frederick Montana in  Sweet Home Alabama and Geoff in Hitch.  
A project with a purpose, "Man Man Beaver" is as much about supporting the struggle for equal rights across the nation as it is about being funny, fresh and subversive every single week.  
 
Series Launch Date - 'Man Man Beaver'
November 6th, 2012 (11/6/12)
Official Preview Episode Available Now  - http://www.ManManBeaver.com 
Website: http://www.ManManBeaver.com the official site
https://www.facebook.com/ManManBeaver Facebook fan page check out behind the scenes.
Twitter @ManManBeaver #ManManBeaver "Dam the Bigots with Man Man Beaver"
Justin Howard
Director of Publicity 
Desert Grove Media
619-379-7317 (cell)
Justin(at)desertgrovemedia(dot)com
 
Creator/Executive Producer Josh Sugarman -
Josh Sugarman began writing for the screen while working as a young progressive political staffer in Boston, working alongside LGBT candidates and organizations like Mass Equality.  It wasn't until years later, when he was half-way through his law school tenure, that he began focusing on a life in film, cross-enrolling in Columbia University's graduate film school and later forgoing a legal career to co-found YaSu Media and direct the award-winning "TROPHY KIDS", his feature directorial debut (starring Ryan Eggold and David Gallagher).  
Prior to TROPHY, Sugarman wrote and directed two widely distributed shorts for the progressive non-profit  http://www.TruthThroughAction.org.  Recently, he's combined his legal education and passion for film as a volunteer with the Volunteer Lawyers for the Arts. He's a graduate of Brandeis University and Columbia University and currently lives in New York where he's expanded into television and commercial work while preparing to shoot his follow-up feature "DEAR FRIENDS, WITH LOVE" this spring.
 
Creator/Executive Producer Brandon Yankowitz -
Producer-writer, lawyer Brandon Yankowitz, was born and raised in New York.  He is a graduate of Brandeis University (B.A. Politics) and of New York Law School (J.D.).  Brandon is a former model, a licensed attorney and is a member of the New York and New Jersey State Bars.  He was selected by the National Trial Lawyers Association as one of the Top 100 Trial Lawyers and Top 40 under 40.  
Brandon is the Co-Founder and Partner at the production company: YaSu Media, LLC, which develops and produces feature length and short format film content for traditional and new media distribution. His first series of films, made for the progressive organization http://www.TruthThroughAction.org which he Co-Founded and acts as the Director of Production, caused quite the controversy. Conservative pundits like Bill O'Reilly and Michelle Malkin lambasted the films, while the likes of ABC News and the Huffington Post applauded their visual appeal and bold statements.  Brandon went on to co-write and produce the award winning feature film TROPHY KIDS, starring Ryan Eggold and David Gallagher.  
He is the Co-Creator of the new animated series "Man Man Beaver," which is being produced by YaSu Media.  Brandon currently lives in New York City and will be shooting his follow-up feature "DEAR FRIENDS, WITH LOVE" on location there in Spring 2013.
 
Nathan Lee Graham
Broadway: Priscilla Queen Of The Desert, The Musical, Tony and Grammy nominated The Wild Party.
Off-Broadway: Wig Out! (Drama League nomination). Off Off-Broadway: Three Lost Chords (Zipper Theatre). First National Tours: Jesus Christ Superstar, Showboat. Regional Theatre: The Wild Party(LADCC Award, Ovation nomination, Blank Theatre), Gifts Of The Magi (Capitol Rep.), Once On This Island(O'Keefe Center/Buffalo Rep.),The Rabbit Foot(Illinois Theatre Co.) , Henry IV: Part I(St. Louis Rep.), Division Street(Minnesota Rep.), Jesus Christ Superstar(Helen Hayes PAC). TV: Michael Patrick King's "The Comeback" (HBO, recurring). Guest-starring roles include "Absolutely Fabulous", "It's All Relative", "Quintuplets", "Scrubs" "The More Things Change", " Law & Order SVU". Film: Box office No.1's Zoolander, Sweet Home Alabama, Hitch. Indies:"818", Trophy Kids, Migraine. 2005 Grammy winner "best classical album" William Bolcom's Songs Of Innocence and Of Experience. Nathan is a consummate cabaret artists and a graduate of Webster University Conservatory. Up next Off-Broadway Amandine, The Musical.
Sam Seder
Currently, Sam hosts and produces Majority Report http://majority.fm a political podcast airing every weekday.  Sam gives commentary and interviews leading, controversial political and cultural figures on the podcast including guests like Ezra Klein, Katherine Harris, and Glenn Greenwald.  Sam created the podcast over seven years ago and it continues to build in popularity.  The press frequently covers Sam's political projects, including feature stories in The AV Club, Huffington Post, Mediabistro, and NY Daily News.  In 2010, Sam was included in the nominees for The Nation's "30 Media Heroes".
For television, Sam recently sold a pilot to AMC. He has also written pilots for NBC, FOX, CBS, and HBO, and acted in ten network sitcom pilots.   Sam also co-wrote, produced, directed, and acted in the feature length comedy "Who's the Caboose?", starring Sarah Silverman, David Cross and Jon Benjamin.  The film was acquired by the Trio Network in 2004, which also ordered the six-part mini-series sequel Pilot Season.  As an author, Sam co-wrote "F.U.B.A.R.: America's Right-Wing Nightmare" with Stephen Sherrill for Harper Collins.