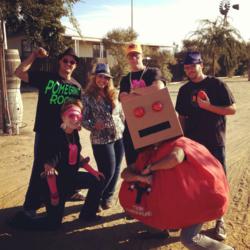 "It was especially great hearing the splat sound of pomegranates hitting the target off the pomegranate launch." Nick Davis
Madera, CA (PRWEB) November 12, 2012
Guests at the 2nd Annual Pomegranate Celebration and Festival, put on by the Madera Chamber of Commerce, enjoyed a beautiful sunny day of music, drinks and food, at the Madera Municipal Airport. Airplanes were on display so that guests could get up close and personal, as well as local band Deja Blues, grooving the afternoon away.
"We had a lot of fun, and you could not have asked for a more beautiful day," said Nick Davis, co-owner of Twin Pomegranates Wine. "It was especially great hearing the splat sound of pomegranates hitting the target off the pomegranate launch."
Twin Pomegranates entertained crowds with their version of Top Shot with the 'Grenade Launch'. They had guests of all ages launching baseball sized red juicy pomegranates at a 6 ft. wide target over 100 ft. away 30 ft. in the air.
"We chose to call it the 'Grenade Launch' because the grenade derived its name from the pomegranate. The inside of a pomegranate has hundreds of juice filled packet called arils, where a grenade is filled with little bits of shrapnel," said Brian Davis, the other half of the twins. Brian is a member of the Madera Tourism Alliance Committee, which was responsible for organizing the celebration events and the weekend's Pomegranate Festival.
Another hilarious feature of Saturday's Festival, was an impromptu performance of "Pomegranate Rock" performed by Brett Frazier, Mayor of Madera, along with Brian Davis, and other music video participants. Families got to watch the mayor rap and dance to his version of LMFAO's "Party Rock Anthem" "Pomegranate Rock." The actual music video showcases Twin Pomegranates Wine as well as other wineries and businesses of Madera County and features the happy citizens of Madera. "Pomegranate Rock" has received over 14,000 views after being released a little over two weeks ago.
Twin Pomegranates poured their newest pomegranate wine Trail Blazer, as well as their Pomegranate Sparkling Wine and Pomegranate Sweet Wine. All wines received great feedback from guests that visited the beer garden to have a glass. Younger participants enjoyed fresh pomegranate arils, as well as the competition inducing pomegranate grenade launch.
Additional information
Nick and Brian Davis are twin brothers and co-creators of Twin Pomegranates™ Wine. They are fourth generation farmers born and raised in California's "Central Valley." Twin Pomegranates is a small production wine company located in Madera, California. Their locally grown Wonderful variety pomegranates are crafted into wines that are rare, unique, and exotic. They hand select their pomegranates at optimum ripeness to ensure rich color and flavor and believe it's important to maintain the value and integrity of the fruit. Twin Pomegranates produces four wines: a 100% Pomegranate Table Wine, a Pomegranate White Wine Blend, a 100% Pomegranate Sparkling Wine, and semi-sweet 100% pomegranate wine