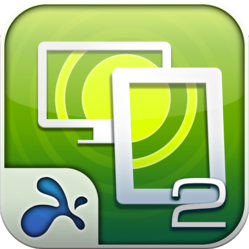 Intel processor-based Android smartphones and tablets are setting a new performance bar for mobile devices.
San Jose, CA (PRWEB) November 08, 2012
Splashtop Inc., the worldwide leader in cross-device computing, today announced that is working with Intel to optimize its award-winning mobile app for Android on Intel Architecture. Intel processor-based Android smartphone and tablet users will now be able to enjoy the same protected, high performance remote access to their Macintosh and PC desktops, including new PCs based on Microsoft Windows 8.
To date, Splashtop has empowered more than ten million users of mobile devices, ranging from tablets to smartphones, to remotely access their computers from anywhere to run their favorite Mac or Windows applications and to view and edit files, watch HD movies and play graphic-intensive games.
"Intel processor-based Android smartphones and tablets are setting a new performance bar for mobile devices," said Mark Lee, CEO and co-founder of Splashtop. "With our optimized performance and unsurpassed security on Android on Intel-based platforms, Splashtop customers will now have access to all of their apps and files anytime, anywhere."
The Splashtop 2 app for Android phones and tablets has been optimized for Intel processors, leading to improvement in performance, CPU utilization, and battery life. In addition, it sports self-optimizing technology that adapts to the conditions of the network, enabling the user to take full advantage of the bandwidth of a 3G or 4G network or Internet connection.
Splashtop 2 for Android is the only remote desktop application available today fully optimized to remotely access the latest Windows 8 PCs, using native Windows 8 gestures. Microsoft Office 2013 is now optimized for a touch experience on Windows 8, which means Splashtop 2 now enables enhanced productivity by providing touch-optimized Microsoft Office for Android devices. Any Windows 8 touch-optimized app can now be enjoyed on Android devices.
"Intel has worked with Splashtop for many years to help optimize its remote desktop products to run on millions of PCs and servers based on Intel architecture," said Kumar Balasubramanian, Director, Software Alliances of Intel. "Now users can take advantage of the same easy-to-use and high-performance Splashtop remote app on their Intel-based smartphones and tablets."
For customers to get started with Splashtop 2 the only configuration needed to connect to a computer is a user name and password. There is no need to configure routers or firewalls, or to manually enter IP addresses or security codes. With the Splashtop Anywhere Access Pack, available via in-app purchase after a 7-day free trial period, the same simple process lets users connect to their devices reliably from anywhere in the world, over the Internet.
Splashtop Streamer
Splashtop 2 requires the downloading and installation of the free Splashtop Streamer software onto a Window PC or a Mac. Supported platforms: Windows 8, 7, Vista, and XP (including Home Premium), Mac OS X 10.6+ (Snow Leopard or Lion is required for Mac users). A computer with dual-core CPU is recommended for best performance. The purchase of Splashtop 2 includes a license to access up to 5 computers.
Supporting Resources
Splashtop Home: http://www.splashtop.com
Download Splashtop 2 for Android: https://play.google.com/store/apps/details?id=com.splashtop.remote.pad.v2
Follow Splashtop on:

About Splashtop Inc.
Splashtop aspires to touch people's lives by delivering the best-in-class remote desktop experience – bridging tablets, phones, computers and TVs. Splashtop technology empowers consumer and business users with high-performance, secure, interactive access to their favorite applications, media content and files anytime, anywhere.
Splashtop's products are top-selling apps on Apple App Store, Google Play, Amazon Appstore for Android, Nook Apps, BlackBerry App World, HP App Catalog, Lenovo App Shop and others. More than ten million people have downloaded Splashtop products from app stores, and more than 100 million devices from HP, Lenovo, Dell, Acer, Sony, Asus, Toshiba, Intel and other partners have shipped with Splashtop.
The consumerization of IT and proliferation of mobile devices is leading to adoption of Splashtop by businesses. The Splashtop Bridging Cloud™ ensures reliable, secure and high performance connectivity across multiple devices, while offering IT, system integrators and service providers policy-driven control.
Splashtop has won the prestigious "Most Innovative Product" award from PC World, the "Best of What's New" award from Popular Science and the "Best of 2012 CES" award from LAPTOP Magazine. The company is headquartered in San Jose with offices in Beijing, Hangzhou, Shanghai, Taipei and Tokyo. For more information, visit http://www.splashtop.com.
Media contact:
Heather Fitzsimmons
Mindshare PR
heather (at) mindsharepr (dot) com
(650) 800-7160