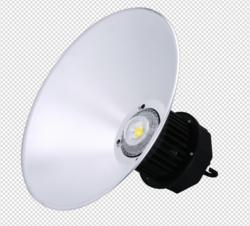 (PRWEB) November 21, 2012
Recently, Zhongtian Lighting introduces a new product-----70W high bay light[ZT-HB-1-70W] for commercial lighting, which is another popular product of Zhongtian Lighting's production line. It is lightweight, compact, silent, and easy to install. Meanwhile, it offers a passive environment-friendly solution without carbon dioxide emissions.
The shape of LED high bay lighting is similar to that of traditional lamp, so users can install the LED light easily and do not need extra tool. The LED High Bay delivers 8400-9450 lumens (120-135 lm/w) while offering power savings up to 80% and this efficiency can be further improved by using proximity switch to save power in low traffic areas. The high bay light is virtual maintenance free, lasting up to 5 years. It is available in color temperatures of 2700K-3500K, 4000K-4500K, and 5500K-6500K and beam angles of 45° or120°. Designed to replace conventional lighting in a wide variety of rugged applications, the IP-66 rated high light output gives it a stable performance. Zhongtian Lighting's high bay lights are ideally suited for both indoor & outdoor applications which require bright, efficiently delivered overhead illumination such as warehouses, cold storage facilities, tunnels and manufacturing plants. The high bay lamps have passed CE certification and UL certification. However, Zhongtian Lighting continues to develop low-cost and efficient luminescence and satisfies more demands.
With the integration of optical design, mould tooling, and mass production in house, Zhongtian Lighting is able to offer its customers high quality led baylights to meet the rapid demands of the lighting industry. So far it has developed the optical solutions for various types of applications, such as commercial lighting, architectural lighting, stage lighting, street lighting, high/low bay lighting, and railway lighting and so on, more than 100 types of standard optics, available with different beam patterns according to different requirements. Zhongtian Lighting's advanced technology ensures a lightweight and excellent heat dissipation solution.
Reliability, accountability, and social responsibility are the values which Zhongtian Lighting would like to established for both its products and the cooperate image. Now they are in the rising tide of lighting revolution driven by solid state lighting and also improving light quality to a high level. For more details, please visit its website at http://www.ztlights.com.