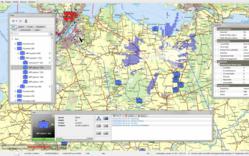 Thanks to its interoperability, SWORD can be used in many different kinds of platforms and contexts, including in mobility, thus allowing for a large array of use cases as well as a higher degree of realism.
Paris (PRWEB) November 09, 2012
At I/ITSEC 2012 (December 3-6, Orlando (FL), at Booth #2201, MASA Group ("MASA"), a leading developer of Artificial Intelligence (AI)-based Modeling & Simulation (M&S) software for the defense, public safety, emergency management, healthcare, serious games and games-related markets, will demonstrate SWORD's capability to interoperate with operational C2 systems and other simulations. MASA will also present SWORD 5.1, the latest version of its commercial off-the-shelf (COTS) constructive simulation software, which can be deployed via distant servers in the Cloud and now supports right-to-left translations.
MASA SWORD is an automated, aggregated constructive simulation designed to assist users to develop and deploy advanced and highly realistic scenarios for the training of decision-makers in commanding posts and crisis centers, and for the analysis of military doctrines and emergency procedures.
SWORD is a powerful and open constructive simulation system. Supporting standards such as HLA and C-BML, SWORD is designed to be fully interoperable with C2, C4ISR systems as well as with other multi-level, joint, and emergency management simulations.
SWORD establishes a defense-security continuum and simulates civilian-military cooperation, offering defense and public safety systems integrators a host of useful features and functionalities. These features and functionalities are designed to address modern training and analysis requirements as well as improve user experience within a context of reduced budgets. In particular, SWORD features missions, behaviors, and models covering OOTW and CBRN crisis management, low density conflicts such as counter terrorism, natural disasters, and the management of resource networks.
SWORD demonstrations at MASA's booth (#2201)
At MASA's booth, visitors at I/ITSEC 2012 will see the following SWORD demonstrations:
-SWORD's capability to interoperate with operational C2 systems will be demonstrated by the integration of SWORD with SitaWare Headquarters, a robust, scalable COTS command and control solution offered by Systematic. Both companies are presenting the 'C2 Classroom', a C2 training solution including a constructive simulation, providing course of action analysis, war gaming, and support in doctrine development.
-SWORD's capability to interoperate with entity-level simulations will be showcased by the integration of SWORD with BIS' Virtual Battlespace 2 (VBS2), providing a virtual sandbox within which individual and collective training can be conducted. SWORD will also be integrated with STAGE, Presagis' simulation software that provides users with the ability to generate and execute complex scenarios for training and analysis.
-Various use cases of SWORD for defense and public safety applications will be illustrated on the booth, including command post training, officers' self-training, OOTW training, emergency preparedness, and healthcare preparedness.
-SWORD's demos at the show will also be accessible on an Apple iPad platform, as well as through Google Earth, thus showing SWORD's strong ability to offer Common Operational Pictures (COP).
SWORD demonstrations at partners' booths
SWORD will also be included in demonstrations at MASA's partners' booths:
-At NATO's booth (#2881), show attendees will see how MASA SWORD has been seamlessly integrated within Systematic's SitaWare Headquarters C2 software using a prototype C-BML (Battle Management Language) interface. This project, which also involves the Danish Defense, will assess the current C-BML standard and propose recommendations to NATO's Modeling & Simulation Group 085 in order to enable a more powerful integration between C2 systems and simulators. The new BML as well as the Military Scenario Definition Language (MSDL) exchange that will be integrated into SWORD will help to ensure a tight connection between the C2 and simulation systems.
-More SWORD demos with other partners are also planned, highlighting the wide acceptance of SWORD as an open, standard-compliant cutting-edge constructive simulation.
"Year after year, MASA continues to make significant advances in simulation development," says Juan-Pablo Torres, President and CEO of MASA Group. "Thanks to its interoperability, SWORD can be used in many different kinds of platforms and contexts, including in mobility, thus allowing for a large array of use cases as well as a higher degree of realism. Here at MASA the customer comes first, these latest developments to our product line are in direct response to what our users tell us they need: openness and ease of integration with their existing C2 and simulation systems."
In addition, MASA will present the advances in the new version of MASA LIFE, its artificial intelligence-based middleware for decision making and intuitive, lifelike behavior authoring. LIFE provides developers with the competitive advantage of cutting costs as well as development and maintenance time through easy content reusability. The next generation of LIFE will be launched during GDC San Francisco in March 2013.
On Wednesday Dec. 5 at 2:45 PM, John Pietrzak, Vice-President of MASA Group Inc., will give the presentation: "Disruptive integration of COTS constructive simulation with COTS C2 systems", in the context of the Innovation Showcase at I/ITSEC 2012.
About MASA Group (http://www.masagroup.net)
Headquartered in France, MASA Group ("MASA"), is a global company focused on the development of Artificial Intelligence-based Modeling & Simulation (M&S) software for the Defense, Homeland Security, Emergency Management, Healthcare, Serious Games and Games Development markets. A trusted developer of cutting-edge AI technology for over fifteen years, MASA has founded its success on products that combine scalability, adaptability and low cost of ownership, with a strong standards-driven approach to technology.
The MASA product range, including MASA SWORD and MASA LIFE is uniquely designed to simplify and optimize the implementation of Artificial Intelligence capabilities for automating and driving simulated behaviors. Such capabilities allow developers and end-users in various sectors to focus their efforts on enabling a series of cost-efficient and highly realistic applications – such as command staff training, crisis management preparedness, exercise preparation, after-action review, doctrine & equipment analysis, and corporate training. MASA products are already being used by leading organizations worldwide.
MASA Group Press Contacts
Eric Giaretto, Vice President, Marketing & Communications, MASA Group
tel: +33 6 80 26 42 40, e-mail: eric(dot)giaretto(at)masagroup(dot)net
All trademarks contained herein are the property of their respective owners.
Photo available: Screenshot of MASA SWORD, caption: New SWORD 5.1 can be deployed in the Cloud and now supports right-to-left translations