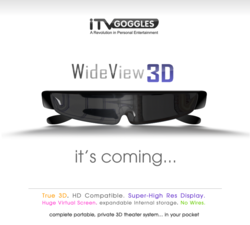 Simply stunning... Your surroundings instantly transform into a private 3D movie theater. Technology at its best.
Los Angeles, CA (PRWEB) November 10, 2012
iTVGoggles, a worldwide leader in portable video glasses, goggles and head mounted displays, today introduced the WideView 3D. A revolutionary new generation of video glasses packed with innovative and breakthrough features. It offers an unprecedented 92" wide-screen virtual display, 3D and HD video support while operating completely free of wires and/or external controls and devices. A super-long battery life also provides a practical solution to a very busy modern era. With an optimized viewing experience, it puts to rest the issues of discomfort and picture quality associated with the previous lines of similar devices.
Just load your digital movies and videos onto these digital goggles, via USB or Micro SD cards... and you are set to go.
The WideView 3D video glasses are available for pre-order starting November 10th, 2012 at a promotional price at iTVGoggles.com.
Using state of the art radiation-free LCD virtual display technology, iTVGoggles' WideView 3D video glasses transform any surrounding into a personal, private 3D theater, equipped with a 92" Virtual display (at approx. 10-12ft away) and hi-fi stereo sound. It is a bona fide and portable 3D home entertainment system … on the go.
With a touch of a button, users can enjoy both 2D and 3D digital movies on a jumbo sized, high-resolution virtual screen. WideView 3D goggles can seamlessly play 720p HD digital movie and video files in 2D or side-by-side 3D formats.
Side-by-Side 3D is a very popular 3D format which displays a different picture to each eye. By dedicating an individual screen to each eye, WideView 3D video glasses promise to deliver a true 3D experience. It is noteworthy to mention that most 2D movies can also be converted into side-by-side 3D format using widely available software, and enjoyed in true 3D on the WideView 3D iTVGoggles.
Built upon its popular predecessors, ITG-WideView (released in 2010) and WideView XL (released in 2011), the WideView 3D has been redesigned mostly in part based on consumer feedback and polls conducted on the company's popular Facebook page by the iTVGoggles' R/D team.
iTVGoggles' WideView 3D video glasses offer a unique and innovative set of features that set them apart from any other products in the industry. There are no wires or external devices to tangle with and the high-resolution display is surprisingly crisp and clear. Native side-by-side 3D support, built-in multimedia player, 8GB of storage, MicroSD card slot expansion, sleek design and long-life rechargeable battery make WideView 3D a front-runner for the most conformable, portable, versatile, and feature-packed device of its kind.
Some of the features include:

Approximately 92" – 102" virtual display size (at approx. 10-12' away)
State of the art radiation-free LCD
Support for HD Video and Movie files (720HD, 2D and 3D)
Support for most popular digital formats (i.e. AVI, MPG, FLV, MP4 and etc...)
Support for both 3D (side-by-side) and 2D videos/movies, as well as pictures, music and TXT eBook files
High resolution of 854 x 480 (WVGA); 122k Pixels
Weights under 3.5oz
40GB of combined storage (8GB Built-in + up to 32GB per Micro SD card)
100% Self-Contained; No wires, control boxes or devices.
3-4 hour play time on built-in rechargeable battery
Plug n' Play USB file transfer;
Micro SD memory card slot, to expand storage with support for up to 32GB per memory card
"There have been other products in the video glasses market in recent years, but the WideView 3D iTVGoggles offer some key differentiators that truly makes them the most innovative such device to date" said Avi Gabbay, Technical Director at Modern Gadget Electronics. "Based upon our internal testing and evaluation, as well as consumer feedback and reviews, it's measurably the best, and most versatile of any other similar device in its class. It not only packs a technological milestone, It is also user-friendly, offers an amazing picture and is designed for people who want to watch what they want, where they want, whenever they want… even in 3D"
About iTVGoggles
iTVGoggles is a worldwide leader in video glasses technologies, head mounted displays and virtual reality equipment. The company offers innovative, industry-changing products for consumer electronics, and mobile devices. iTVGoggles' products are widely used in the personal, recreational and professional fields. They have also been the subject of countless media coverage all over the world. iTVGoggles is headquartered in Los Angeles, California and ships worldwide. For more information, visit http://www.itvgoggles.com.