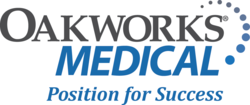 It is a significant opportunity to showcase our latest innovations for imaging positioning tables
New Freedom, PA (PRWEB) November 09, 2012
Oakworks Medical is pleased to announce that once again they will be attending the annual Radiological Society of North America Conference and Exhibition. The RSNA 2012, 98th Scientific Assembly and Annual Meeting will be held on November 25 – 30, 2012 at McCormick Place, Chicago, Illinois. This show is expected to draw 60,000 attendees and as such, represents a major sales and marketing event for companies showing at the meeting. The annual RSNA event is the world's most important annual meeting in medical imaging. Attendees from around the world will converge on Chicago to witness the latest discoveries, techniques and innovations in medical imaging.
Jeffrey Riach, CEO of Oakworks, Inc stated, "The RSNA meeting is perhaps the most important medical event we attend. It is a significant opportunity to showcase our latest innovations for imaging positioning tables. This is one of the largest medical meetings in the world and our audience of national and international radiologists, medical physicist and other medical professionals will see first-hand, the innovative and industry leading features of the best imaging tables in the industry."
The RSNA event will highlight discoveries, techniques and practical clinical applications of the latest technology in medical imaging. Courses, exhibits and presentations will feature advances in nuclear medicine and molecular imaging.
Oakworks, Inc. is a premier manufacturer of quality medical and medi-spa equipment. The company will feature their line of medical imaging tables built to accommodate an array of various techniques including C-Arm, Ultrasound and Cardio imaging. Long recognized as a source of design innovation, Oakworks has become a leader in providing patient positioning equipment to the worldwide medical community.
To see the latest innovations from Oakworks Medical, visit RSNA Booth # 4751.
About Oakworks Medical:
Oakworks has been providing customers with innovative medical equipment, excellent service, and cost effective solutions for over 30 years. Oakworks Medical collaborates with leaders in various medical specialties to create cutting edge table designs and patient positioning devices that balance the needs of both patients and practitioners. Every table built in the modern 91,000 sq foot facility located in New Freedom, Pennsylvania comes with the reliability that today's medical professional demands. Oakworks Medical is ISO 13485:2003 certified, enhancing our commitment to the safety and comfort of both therapists and patients. The ISO standard is intended to ensure that medical device manufacturers have the required quality management systems in place to safely design, manufacture and distribute medical devices. Oakworks Medical is committed to identifying the needs of customers and providing solutions that are cost effective. For all your exam and treatment needs, discover why Oakworks Medical is the table of choice for medical professionals around the world.
For more information, visit http://www.oakworksmed.com
For additional information on Oakworks and their products Contact:
Email address: info(at)oakworks(dot)com
Phone: 717.235.6807