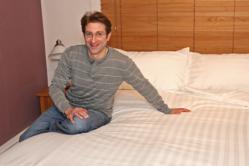 Duvet battles finally put to bed with the bediquette friendly British invented Couple Snuggle duvet cover
London, UK (PRWEB UK) 9 November 2012
British entrepreneur and inventor Grahame Cohen has finally solved the number one problem* couples have at bedtime - duvet hogging - with his international patent applied Couple Snuggle Duvet Cover.
Grahame Cohen explains, "Duvet hogging occurs from the natural desire to wrap yourself up on both sides of your body, which means unconsciously you pull the middle of the duvet under your shoulder, removing the covers and comfort from your partner at night. My inspiration came one sleepless night when I decided to solve the puzzle of how to share a duvet with my wife, yet have my own duvet to snuggle in at the same time."
The Couple Snuggle Duvet Cover connects two standard single duvets, one on each side of the bed. But the clever patent applied design separates each duvet from the top of the cover towards the centre, so that each partner can simply snuggle apart, wrapping themselves up in their own duvet or they can both snuggle together just like being under one big cover.
Grahame Cohen continued "My wife now uses a heated duvet on her side of the bed and I use an all seasons duvet on mine. Now we can regulate our own temperature. We feel like we are under the same cover when we snuggle together, but are able to wrap ourselves in our own duvet when we sleep."
Couples can now simply buy two standard single duvets of their own choice and place them into the Couple Snuggle duvet cover, instantly solving issues of duvet hogging and temperature differences. With no more bedding related arguments, the Couple Snuggle is set to improve relationships everywhere.
Manufactured in the UK, The Couple Snuggle is currently being sold exclusively at CoupleSnuggle.com, in a white satin stripe, and a rich ivory satin stripe design, both of which come with matching pillowcases. The Couple Snuggle will soon become available internationally.
------------------------------------
*Premier Inn sleeping survey 2012. Couple Snuggle Sleeping Survey 2012 also showed 78% of couples find their partner pulls their covers away from them at night.