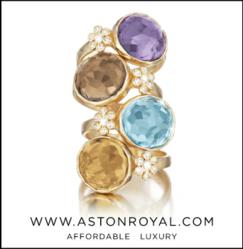 Denver, CO (PRWEB) November 08, 2012
While friends, family, good health and success are essential ingredients for happiness, beautiful jewelry that delights and dazzles is also on the list for many women. Aston Royal's new designer fashion jewelry collection from Lauren Sigman Jewelry reflects this, combining vibrant gemstones and dazzling diamonds to create a sense of optimism in jewelry.
Inspired by a love of flowers, the Lauren Sigman Jewelry collection includes fine jewelry set with Pink and Blue Sapphire, Blue Topaz, Amethyst, Garnet, Peridot, Opals, and diamonds - all cherry-picked for their natural beauty and brilliance.
Gerber Rings set in 14-karat yellow gold feature rose-cut Amethysts, Smokey Topaz, Turquoise and diamond florets that rest flirtatiously on the side. Orchid Necklaces set in 14-karat yellow gold with pear-shaped Opal petals and diamonds offer a whimsical, elegant style.
"There is a glamorous, feminine aesthetic to this collection that captivates us," says Jacqueline Lampert, Aston Royal's co-founder. "Lauren Sigman Jewelry seems to breathe new life into perennial jewelry favorites. Take a wardrobe essential like hoop earrings, add diamond flowers, and the result is a gorgeous pair of sparkling Peony Diamond Hoop Earrings."
This refreshing approach to design is seen in Lauren Sigman Jewelry's collection of engagement rings. With rose-cut diamonds set with the faceted side-up, rings like the Calla Lilly Diamond Engagement Ring offer an innovative, unique engagement ring.
Designed and hand made in Florida, Lauren Sigman Jewelry reflects a woman's identity in a feminine way.
For more information and to view the collection, please visit http://www.astonroyal.com