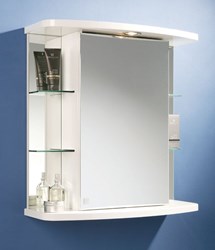 The company now sell a new range of Bathroom Mirror Cabinets that are excellent for all of your appearance needs.
(PRWEB UK) 9 November 2012
Bathroom Furniture is increasing in popularity within the bathroom market and more home owners who are wanting to find ways of storing key items and improve the overall appearance of the bathroom. Bathroom furniture cabinets are great for consumers who want to apply a beautiful item to the wall whilst serving multiple functions. The main advantage of the new bathroom cabinets available at Bella Bathrooms is the ability to remove items from the floor for other key aspects. For example, positioning a bathroom cabinet with a vanity unit below provides the ultimate storage and washing combination.
The company now sell a new range of Bathroom Mirror Cabinets that are excellent for all of your appearance needs. These cabinets provide two different functions in one including storage and mirror usage to enable home owners the ability to hide all unwanted items from display whilst helping those wanted to get ready on the morning. All of the new bathroom mirror cabinets come in a variety of colours, designs and sizes to benefit any home owner no matter room size or décor.
Bella Bathrooms also provide customers with the opportunity of buying bathroom vanity units that also contain multiple function ability. Basins placed within the units are a great way to create a small yet important cleansing function, whilst the storage below is ideal for those wanting to hide bathroom products away from the public eye. Vanity units are essential for home owners that have a smaller space and want to have a highly beneficial item with great functions. Some of the finest manufactures in the UK are found on the Bella Bathrooms website including Hudson Reed and Tavistock, providing the finest of quality possible.
Bathroom Furniture Collections are available to view online and feature beautiful designs making the difficulty of creating a wonderful bathroom easier. Within the bathroom furniture collections, consumers can view all of the items contained within and then mix and match to create a unique and specific design. This is a vital aspect when wanting to establish a specific look and each bathroom furniture collection features unique designs and sizes. Classic wood furniture is available for home owners wanting to create a dated yet luxurious look whilst modern contemporary alternatives helps create a stylish feel.
About Bella Bathrooms:
Bella Bathrooms is one of the finest UK online bathroom retailers based in the North-East of England and offer continuous great deals of bathroom refurbishments, shower, towel rail and radiator updates, stylish bathroom furniture and various other key elements at prices that are guaranteed to be unsurpassable. The latest updates continuously made have further improved the overall quality and they have set a high standard for things to come in the future. The company also own a number of other e-commerce sites with their latest addition being ibathroomsuites offering most bathroom suites with a next day delivery service.
Bella Bathrooms
Tel: 0844 8117 017
Available to contact from 9am – 5pm