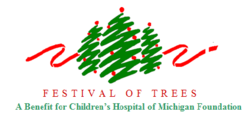 Detroit, MI (PRWEB) November 09, 2012
The 28th Annual Festival of Trees Fundraiser, a benefit for the Children's Hospital of Michigan Foundation, returns to the Ford Community & Performing Arts Center November 18-25, 2012.
The Festival of Trees, displays individually designed 7', 4', 3' trees, wreaths, gingerbread houses and other holiday gift shop items that can be purchased. Festival of Trees has dedicated nearly $13 million to support vital medical research through The Children's Hospital of Michigan Foundation. Festival of Trees will feature an elaborate holiday Lego Display sponsored by the Michigan Lego® Users Group as well as provide children's activities and photo opportunities with Santa.
"The Festival of Trees Event Committee and Board of Directors looks forward to returning to The Ford Community & Performing Arts Center for another successful event," says Event Director, Theresa Diefenbach, "the venue is a lovely location for our designers to showcase their creative talent, providing a beautiful atmosphere for families that consider Festival of Trees the official start to the holiday season."
The event kicks off with a black tie Preview Gala Saturday, November 17th from 6:30 p.m. to 11:00 p.m. featuring a silent auction, strolling dinner, cash bar and live entertainment by The Henry Ford Big Band. Tickets are available at http://www.fot.org
"The 2011 Festival of Trees fundraiser saw over 7000 attendees and the Preview Gala was a resounding success with over 600 in attendance," said Diefenbach, "The Festival of Trees family looks forward to, once again working with the Dearborn community. Last year's event was a great success, and we truly appreciate the reception from everyone."
Festival of Trees will take place Sunday, November 18 through Sunday, November 25 at the Ford Community & Performing Art Center: 15801 Michigan Ave., Dearborn, MI. Tickets are available at http://www.fot.org. General Admission Tickets for adults and children are available the door for $5.00 and $3.00. Infants under two years of age are free.
####