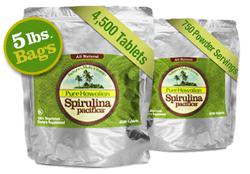 The superfood is often called Nature's multivitamin because it contains more nutrition gram-per-gram than any other food in the world.
KAILUA-KONA, Hawaii (PRWEB) November 08, 2012
Nutrex Hawaii, producer of microalgae-based Hawaiian Spirulina Pacifica and BioAstin Natural Astaxanthin™ supernutrients today announced special savings on the immune-boosting superfood Hawaiian Spirulina. This November, health-conscious consumers can save up to $50 on five-pound bags of Spirulina using the promotion code SPIRU5LB. The promotion, which also includes free shipping, runs until November 30, 2012.
"This annual promotion is one of our most popular campaigns and really benefits active people who are serious about staying healthy and feeling great," said Bob Capelli, Nutrex Hawaii vice president of sales, marketing and materials management. "Spirulina's superior nutritional profile helps safeguard good health which is very important at this time of year," he added.
Clinical studies show Spirulina strengthens the immune system. The superfood is often called Nature's multivitamin because it contains more nutrition gram-per-gram than any other food in the world. In fact, one three-gram serving of Spirulina contains a wide range of vitamins, all 94-trace minerals, every essential amino acid and more antioxidants, anti-inflammatory activity and phytonutrients than five servings of fruits and vegetables. The rainbow of health found inside a three-gram, carotenoid-rich serving includes:

The orange of beta carotene for immune system support
The yellow of zeaxanthin for eye and brain health
The green of chlorophyll for anti-toxin benefits
The blue of phycocyanin for inflammatory balance
Hawaiian Spirulina Pacifica is available in powder and tablet form. A five-pound bag contains either 750 powder servings or 4,500 tablets. To place an order, visit http://www.nutrex-hawaii.com
###
About Hawaiian Spirulina Pacifica®
Hawaiian Spirulina Pacifica® is a unique superior strain of Spirulina with the highest known nutritional content in the world. It's all natural, 100 percent vegetarian, Kosher Certified, and Non-GMO. It's the only Spirulina cultured in a Biosecure Zone free of herbicides and pesticides on the sunny Kona coast of Hawaii. Hawaiian Spirulina Pacifica thrives in ponds fed with 100 percent fresh potable water from Hawaiian aquifers and pure, deep ocean water drawn from 2000 feet below the surface of the Pacific Ocean. This ultra-pure, deep ocean water enriches Hawaiian Spirulina Pacifica with 94 trace minerals and is a unique natural resource used in our patented Ocean Chill Drying™ technology which ensures maximum nutrient potency.
About BioAstin® Hawaiian Astaxanthin™
As nature's most powerful antioxidant, BioAstin® Hawaiian Astaxanthin™ has been documented to show a wide range of benefits in human clinical studies on several serious health concerns. Due to its molecular structure, Astaxanthin is one of the few antioxidants that can move throughout the entire body and provide protection to all of our cells. And Astaxanthin has the unique property that it can protect the entire cell. It has polar hydrophilic ends that span across the entire cell membrane. Most other well-known antioxidants cannot do this.
About Nutrex Hawaii
Founded with the goal of harnessing the benefits of microalgae to alleviate malnutrition and promote health, Nutrex Hawaii is a global leader in microalgae products.
Contact
Jill Miller
JMiller(at)nutrex-hawaii(dot)com