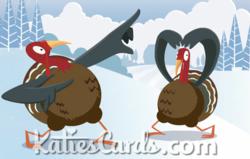 "Our customers wanted to be able to track how many of their targets received and opened the cards, so we built a tracking facility to show them just how effective their Ecard was."
(PRWEB) November 08, 2012
London, 8th November 2012. Today, niche provider of online cards http://www.Katiescards.com ("Katie´s Cards") unveiled a new delivery monitoring service for corporate customers of its DIY Christmas E card service.
Previously, customers were sent a link to their Ecard, which they could then forward on to customers, prospects, staff or other stakeholders. However, Katie's Cards now offers the functionality for the customer to administer the card's delivery status directly from the Katie's Cards website and benefit from a new delivery tracking report.
Customers can now opt for a fully self-managed Christmas Ecard, whereby they simply upload a logo, message and website address and can preview their card without obligation to buy. A spreadsheet with their contacts can then be easily uploaded, and the Ecard distributed immediately or at a future date.
After sending, users can view, via a profile dashboard, how many recipients received and opened the Ecard and how many viewers the card has received in total. A more detailed report can also be accessed, showing status by individual recipient, how many times a card was opened and viewed.
"It's important that all marketing and communications initiatives can demonstrate a return on marketing investment, or ROMI," said Katie's Cards CEO, Katie Davies. "Our customers wanted to be able to track how many of their targets received and opened the cards, so we built a tracking facility to show them just how effective their Ecard was."
The DIY service has been launched just in time for the Christmas Ecard market, and costs £75 for a static Ecard or £195 for an animated Ecard. The new range of animated Christmas Ecards includes "Turkey Olympics", "Seasonal Cities" and " Magic Box".
"We discovered that some customers are happy to manage their own design and fulfilment process so we've made our DIY service quick to use and simple, with step-by-step instructions," continued Davies. "The self-administered option allows users to preview their cards, messages and logos at their own convenience, and the new tracking facility gives them the tools to measure the effectiveness from their campaign."
Customers can choose one of 30 static card design templates or one of 26 animated designs. The cost includes the mailing of up to 1,000 contacts, although extra credits can be bought for lists in excess of 1,000.
About Katie's Cards
http://www.katiescards.com was established in 2007 and provides a range of over 200 ecards to consumers, for a range of international holidays and celebrations. It recently launched a business Ecard service, offering organisations the ability to send static, animated or bespoke Ecards to their stakeholders. For more information on its consumer division, visit http://www.katiescards.com; for its business division: http://www.katiescards.com/company, or follow the company on Facebook.
Company contact details
http://www.katiescards.com
35 Wick Road
Teddington
Middx TW11 9DN
United Kingdom
+44 208 274 2069