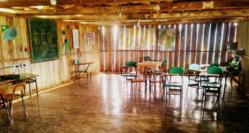 "At NewCom, we are committed to using technology to improve lives." states Dora Mejia, Director of Sales and Business Development NewCom International
Miami, FL (PRWEB) November 08, 2012
NewCom International has partnered with the U.S. Agency for International Development (USAID) and a consortium of other public and private sector organizations in a pilot program that will bring 21st century communications to schools located in the most violent-prone regions of Colombia.
NewCom, a Miami-based global communications provider committed to leveraging today's 21st century communications technology to advance education, health care and economic growth in developing regions throughout the world, is providing satellite-based Internet services for the phase one pilot program –which targets 26 schools located in the remote and volatile region of Nudo de Paramillo Region in Northern Colombia.
The Nudo de Paramillo Satellite Internet Access and Solar Energy for Rural Communities Initiative is being led by the Colombia-based nonprofit organization Fundesmag in conjunction with USAID. The joint initiative is a regional development pilot designed to bring stability to areas of Colombia that are currently struggling due to their remote location and disconnect from local and national governmental entities.
Through the initiative, solar-generated electricity, computers and satellite-based Internet connectivity will be provided to the schools—enabling 4,267 students to benefit from the global educational resources and interactive learning the Internet provides.
The team of public-private sector organizations participating in the initiative also include Corantioquia, a public agency established by the Colombian government to drive social and environmental advancements in these volatile regions, and Hybrytec S.A.S., a Colombian company that specializes in turnkey solar energy solutions for off-grid regions throughout Colombia.
The pilot program has already generated significant excitement and praise from the Colombian government and is a model that Dora Mejia, who is spearheading the initiative for NewCom International, hopes to help replicate throughout Colombia and the rest of the developing world.
"We are excited to be involved in this critical initiative because it highlights the kinds of life-changing advancements that can be made by leveraging today's cutting-edge communications technology. By giving these children in such remote places access to the global education and information the Internet provides, we give them a window to the rest of the world and, at the same time, open the door for their communities to connect globally and with local authorities to improve and stabilize their living conditions" notes Dora. "At NewCom, we are committed to using technology to improve lives and are convinced that these types of public-private partnerships are the key to advancing health care, education, public safety and economic growth throughout Latin America and Africa."
"USAID welcomes this kind of partnership with the private sector. It enhances the impact of U.S. Government investments in development programs and increases sustainability. NewCom was key in coordinating six public- and private-sector actors in this Global Development Alliance where each partner contributed either financially or technically to isolated populations needing education and energy solutions. With this particular type of collaboration, the sum is much greater than its parts," adds Peter Natiello, Mission Director of USAID/Colombia.
About NewCom International
NewCom International is a global communications provider that specializes in unified voice, video, data and content solutions for the public and private sectors. Using integrated satellite, fiber, microwave and Wi-Fi networks as the foundation, NewCom delivers bundled solutions that combine high quality communications services with rich online content and cutting-edge applications to enhance security, foster education, advance health care and promote economic growth throughout the world. NewCom's dedicated network operations center, world-class teleports and global support staff are at the heart of the services offered―providing a one-stop shop for your critical communications needs. For more information, please visit: http://www.newcominternational.com or contact us: sales (at) newcominternational (dot) com
About USAID
The U.S. Agency for International Development (USAID) is the lead agency for the United States Government in providing economic, social, and humanitarian assistance worldwide in support of U.S. foreign policy objectives.
In Colombia, USAID supports government and citizen efforts to promote economic prosperity through the licit economy, improve the living conditions of Colombia's most vulnerable groups, promote respect for human rights and rule of law, and address climate change and environmental issues in one of the most ecologically diverse countries in the world.
NewCom International Contacts
Dora Mejia (sales)
305.914.1264
dora.mejia (at) newcominternational (dot) com
Carmen Coya (Media)
404.408.2103
clcoya (at) effectivemediagroup (dot) com