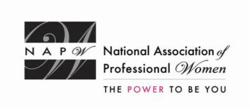 The presentation by Ms. Nygren and Ms. Lafourcade was immensely relevant to many of our members...It was filled with such pertinent and useful information...
Garden City, NY (PRWEB) November 14, 2012
Members and guests of the NAPW New Orleans, LA Local Chapter gathered on October 18th for a professional networking meeting at Tommy's Wine Bar. Attendees had the opportunity to network and connect with each other and discuss Chapter plans and events. Two tax law experts, Kristin Nygren, Senior Attorney with the Internal Revenue Service and Caroline Lafourcade, a Private Tax Attorney educated attendees on small-business owner tax laws and IRS requirements.
The NAPW New Orleans Local Chapter President Stephanie Dovalina kicked off the meeting by welcoming everyone to the event. She briefly spoke about the meeting's agenda, upcoming events, and the recent launch of the NAPW New Orleans Local Chapter Facebook Page.
"We are very excited about our Chapter Facebook Page and encourage everyone to 'like us' and check out the page!" said Stephanie.
The Chapter President then introduced the evening's two guest speakers whose presentations were very helpful to members and guests, many of whom are small-business owners. They led discussions and answered questions about tax laws and federal requirements.
"Ms. Nygren prepared a federal tax compliance presentation aimed at small businesses. A roundtable discussion ensued and provided members and guests with the opportunity to discuss tax issues and questions particular to their business ventures," said Stephanie. "Ms. Lafourcade answered questions related to Louisiana state taxes as well as federal filing requirements."
In the presentation, a number of topics were discussed in detail including the many diverse forms of businesses such as sole proprietorship, LLC (limited liability company), partnership, S corporation, and corporation. The presenters carefully outlined and explained the pros and cons, similarities and differences among the different types of businesses.
The two guest speakers also spoke in great length about the myriad of filing requirements including: annual tax forms (Schedule C, Forms 1065 and 1120S); annual form contents (including income, deductions, what is allowed, what isn't, expenses such as capital vs. personal expenses; business use of a home and/or car); employment taxes (Form 941, TFRP-Trust Fund Recovery Penalties); and other possible filing requirements. Additionally, the two women discussed other important tax information such as small business health care tax credit for small employers.
"The presentation by Ms. Nygren and Ms. Lafourcade was immensely relevant to many of our members," said Stephanie. "It was filled with such pertinent and useful information. We are truly grateful to them for sharing their expertise with us!"
Tommy's Wine Bar offers 20 wines by the glass and a more than 150-bottle selection, as well as a full service bar with specialized cocktails, cognacs, scotches, and bourbons while serving the same great menu selections found in Tommy's Cuisine in a quiet and warm atmosphere.
Members present at the October Chapter meeting included Deborah Gauthier, Margot Van Dyke, Sarah Covert, Suzanne DeBoisblanc, and Regina Barlow; guests included Megan Messina (mmessina(at)gjtbs(dot)com) and Sandra Jenkins, who is currently running for the elected position of Court of Appeal 4th Circuit Judge for Division H.
The National Association of Professional Women (NAPW) is the largest and most recognized network of female professionals. NAPW provides a forum where women can interact, exchange ideas, educate, network, and empower. NAPW Local Chapters allow members to maximize their experience through meetings, networking opportunities, and professional events.
For additional information regarding the NAPW New Orleans, LA Local Chapter and/or NAPW, please visit http://www.napw.com.
Follow NAPW on Facebook and Twitter.
###