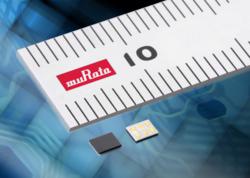 Eindhoven, Netherlands and Hoofddorp, Netherlands (PRWEB) November 08, 2012
NXP Semiconductors N.V. (NASDAQ: NXPI) and Murata today announced a new addition to the Murata MAGICSTRAP® RFID module family incorporating NXP's UCODE I2C technology. In addition to delivering state-of-the-art RF performance, the bridge mode of the UCODE I2C chip uniquely enables a wireless communication link between the application processor and the UHF reader, enabling bidirectional and unlimited data transfer. The module provides consumer electronics products and white goods with both a consistent ID and the ability to perform zero-power configuration at any point in the value chain.
Based on passive UHF RFID standards, data can be read or written into the memory of the MAGICSTRAP+I²C using a standard UHF reader, even while the device or appliance is switched off. Practically, this means that an electronics product can be configured for different languages and markets when already packed in a carton box and ready for shipment. By removing the need to configure products during assembly and when powered on, OEMs can make significant savings in manufacturing and logistics costs by responding precisely to regional and model demand.
A protected unique ID built into the UCODE I²C enables protection against counterfeit and grey markets. This can be combined with cryptographic algorithms to have a strong protection. The possibility to write to the MAGICSTRAP even without connected booster antenna makes it the perfect choice for such uses. Full traceability from begin till end of life of a product is thus given.
As the MAGICSTRAP will be soldered to the PCB, it will stay in the electronics product over its full life cycle. Therefore, it is also the perfect means to provide relevant data at recycling stage, deliver a proof of compliance to the WEEE directive and reduce according costs.
"The Murata/NXP solution is enabling a new model of logistics where electronic products are only configured once demand for them is confirmed, avoiding the production of unwanted models and regional variants," said Richard Schmidmaier, global segment manager RFID in electronics at NXP Semiconductors. "Our close collaborative relationship with Murata has resulted in a new high performance module, which combines the zero-power configuration and bridge-mode functionality of the UCODE I2C with the advantages of the MAGICSTRAP."
"The Murata MAGICSTRAP family is well on its way to establishing an industry-standard solution for turning electronics products into smart objects from the inside," said Alexander Schmoldt, business development manager at Murata. "The new addition to the product family further strengthens the cooperation between NXP and Murata, and delivers the ultimate combination of traceability, counterfeit protection and configuration on demand."
NXP and Murata will present and demonstrate the functionality of the MAGICSTRAP+I²C and UCODE I2C at electronica 2012. Both companies are members of RFID Valuecreators, an industry consortium fostering the use of RFID in the electronics industry. Samples of the MAGICSTRAP+I2C are available now, while volume production is scheduled to start Q1/2013.
About Murata
Murata is a worldwide market and technology leader in ceramic passive components. Murata has developed an innovative product called MAGISTRAP ®. The MAGICSTRAP® can turn any object with a metal plane into a passive UHF RFID tag, simply by connecting to it. MAGICSTRAP® is the first of a set of products, Murata will launch into the RFID market. It combines the company's strong know-how in ceramic technology and RF applications. For more information, visit http://www.murata.eu/rfid/index.html
MAGICSTRAP® is the trademark of Murata Mfg. Co. Ltd.
About RFID Valuecreators
RFID Valuecreators names an open group of companies, which is aiming at establishing the passive UHF RFID technology as a connecting backbone in the value chain of the electronics industry. Current members of the RFID Valuecreators are Murata, Kathrein, Beta LAYOUT, alpha board, Enso Detego Brooks and NXP. While offering information and consultation on available proven technologies the consortium helps interested companies to create value out of the use of passive UHF RFID. The clear focus of the consortium is on the development of standard solutions which will recreate the lost visibility in the supply chain of the electronics industry. In order to support industry wide standardization the consortium cooperates closely with industry associations such as the ZVEI or AIM Global. For more information, visit http://www.rfid-valuecreators.com.
About NXP Semiconductors
NXP Semiconductors N.V. (NASDAQ: NXPI) provides High Performance Mixed Signal and Standard Product solutions that leverage its leading RF, Analog, Power Management, Interface, Security and Digital Processing expertise. These innovations are used in a wide range of automotive, identification, wireless infrastructure, lighting, industrial, mobile, consumer and computing applications. A global semiconductor company with operations in more than 25 countries, NXP posted revenue of $4.2 billion in 2011. Additional information can be found by visiting http://www.nxp.com.
Forward-looking Statements
This document includes forward-looking statements which include statements regarding our business strategy, financial condition, results of operations, and market data, as well as any other statements which are not historical facts. By their nature, forward-looking statements are subject to numerous factors, risks and uncertainties that could cause actual outcomes and results to be materially different from those projected. These factors, risks and uncertainties include the following: market demand and semiconductor industry conditions, our ability to successfully introduce new technologies and products, the demand for the goods into which our products are incorporated, our ability to generate sufficient cash, raise sufficient capital or refinance our debt at or before maturity to meet both our debt service and research and development and capital investment requirements, our ability to accurately estimate demand and match our production capacity accordingly or obtain supplies from third-party producers, our access to production from third-party outsourcing partners, and any events that might affect their business or our relationship with them, our ability to secure adequate and timely supply of equipment and materials from suppliers, our ability to avoid operational problems and product defects and, if such issues were to arise, to correct them quickly, our ability to form strategic partnerships and joint ventures and successfully cooperate with our alliance partners, our ability to win competitive bid selection processes to develop products for use in our customers' equipment and products, our ability to successfully establish a brand identity, our ability to successfully hire and retain key management and senior product architects; and, our ability to maintain good relationships with our suppliers. In addition, this document contains information concerning the semiconductor industry and our business segments generally, which is forward-looking in nature and is based on a variety of assumptions regarding the ways in which the semiconductor industry, our market segments and product areas will develop. We have based these assumptions on information currently available to us, if any one or more of these assumptions turn out to be incorrect, actual market results may differ from those predicted. While we do not know what impact any such differences may have on our business, if there are such differences, our future results of operations and our financial condition could be materially adversely affected. Readers are cautioned not to place undue reliance on these forward-looking statements, which speak to results only as of the date the statements were made. Except for any ongoing obligation to disclose material information as required by the United States federal securities laws, we do not have any intention or obligation to publicly update or revise any forward-looking statements after we distribute this document, whether to reflect any future events or circumstances or otherwise. For a discussion of potential risks and uncertainties, please refer to the risk factors listed in our SEC filings. Copies of our SEC filings are available from on our Investor Relations website, http://www.nxp.com/investor or from the SEC website, http://www.sec.gov.