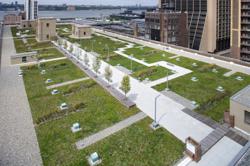 "Sika Sarnafil has played an active leadership role in the green roofing industry for over 10 years," said Jeffrey L. Bruce, FASLA, GRP, and Chairman of Green Roofs for Healthy Cities.
Canton, MA (PRWEB) November 13, 2012
Sika Sarnafil, the worldwide market leader in thermoplastic roofing and waterproofing systems, announced today that it has been honored with an Award of Excellence for its long-standing commitment to green roof architecture and the development of the green roofing industry. Now in its 10th year, Green Roofs for Healthy Cities (GRHC) presented the award to Sika Sarnafil at the CitiesAlive Green Roof and Wall Conference in Chicago, IL.
"Sika Sarnafil has been committed to GRHC and played an active leadership role in the green roofing industry for over 10 years," said Jeffrey L. Bruce, FASLA, GRP, and Chairman of Green Roofs for Healthy Cities. "We are pleased to present this Award of Excellence in honor of Sika Sarnafil's dedication to furthering the economic, social, and environmental benefits of green roofs."
Sika Sarnafil green roof projects that highlight a number of sustainable advantages provided on an otherwise empty, unused space include:
Oaklyn Branch Library, Evansville, IN – The Oaklyn Branch Library uses about the same amount of energy during the summer as the smaller building it replaced.
Chicago City Hall, Chicago, IL – One of the nation's iconic green roof structures completed in 2000. The roof temperature on Chicago City Hall accurately reflects the city's temperature during the summer while its neighbor's roof can reach nearly 160 degrees.
Target Center, Minneapolis, MN – The Target Center's vegetated roof was designed to capture 0.9 inches of rain before run-off occurs, and prevent an estimated one million gallons of storm water from creating a sewer overflow problem and draining into the Mississippi River each year.
Chicago Botanical Garden, Chicago, IL – The vegetated green roof on the Daniel F. and Ada L. Rice Plant Conservation Science Center protects leading scientists working there to foster plant conservation and conduct research in environmental issues that affect plant life like climate change, habitat loss and fragmentation, invasive species, and pollution.
United States Postal Service Facility, New York, NY – The building in New York has a 68,000 sq. ft. vegetated green roof – one of the largest vegetated green roofs in the U.S. and the USPS estimates that the roof will result in an annual savings of $30,000 in heating and cooling costs annually.
"We are honored to receive this Award of Excellence and look forward to furthering our long standing commitment to Green Roofs for Healthy Cities," said Peter D'Antonio, Sika Sarnafil National Sales Manager for Waterproofing Systems.
View this press release on our site: http://usa.sarnafil.sika.com/en/group/news/roofing-press-releases/SikaGRHCAwardExcellence.html
About Sika AG
Sika AG, headquartered in Baar, Switzerland, is a globally active company supplying the specialty chemicals market. It is a leader in processing materials used in sealing, bonding, damping, reinforcing and protecting load-bearing structures in construction (buildings and infrastructure construction) and in industry (vehicle, building component and equipment construction). Sika's product lines feature high-quality concrete admixtures, specialty mortars, sealants and adhesives, damping and reinforcing materials, structural strengthening systems, industrial flooring and roofing and waterproofing membranes. Sika AG has subsidiaries in more than 76 countries worldwide and approximately 15,250 employees link customers directly to Sika and guarantee the success of all of its business relationships. With this business structure, Sika generates annual sales of CHF 4.556 billion. For more information about Sika Sarnafil in the U.S. including Canton, MA visit http://usa.sarnafil.sika.com/.