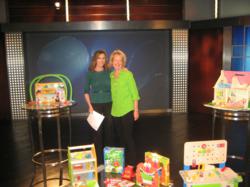 First thing I do when I get your list is put it on my iPhone before I go shopping! The toys that you pick are the ones the boys keep playing with in new and creative ways ... your list is fantastic!
Martha Schott, College Writing Instructor, Grandma
Southport, Connecticut (PRWEB) November 12, 2012
Sustained interaction with children guides Playonwords founder, Sherry Artemenko, to a unique subset of the best toys, games and books that have the chemistry to develop language while delivering great play. Today, Playonwords is announcing the Top 10 picks in each product category of 2012 winners.
Providing parents and educators with the TOP 10 PAL Award Picks for 2012, takes guess work out of gift giving for the holidays. Each product has been tested and reviewed by Sherry and her team of parents, kids and educators. Observing kids in action, combined with her critical eye for language potential, Sherry awards products and writes insightful reviews offering practical tips on how to maximize the educational value in each winner. Many parents and educators find PAL winners and play ideas helpful throughout the year on Sherry's blog, playonwords.com.
Uniquely understanding how the interaction of new toys and healthy play can advance language development is what distinguishes the PAL Award. Sherry's expertise has been tapped by NBC Connecticut, The Chicago Tribune, parenting.com and ASHASphere.
For Sherry, great play is not just about fun, or cognitive development, it's about going deep on both. Her expertise has been built on science and more than 15,000 hours of client experience. Each set of Top 10's represent a breadth of themes and genres, but they all have one thing in common, they are trusted lists of fun products that educate through play.
Here are her 2012 PAL Winners!
TOP 10 TOYS – From cottage caretaker to carpenter, fireman to free play on a distant planet or tropical island, words flourish:

Blossom Cottage by Bigjigs Toys
Chromadepth Puzzles with 3D Glasses by Ravensburger
E-Rangers Headquarters by Playmobil
Mix and Stack Pop Shop by Alex Toys
Olivia's Tree House by Lego
Play House by Plan Toys
Pop & Play, Pop & Swap Gym by Infantino
Tropical Island Resort by Step2
Master Workbench by HaPe International Inc.
WOW Fire Rescue Rory by Ravensberger
TOP 10 GAMES – The lives of Bees, Pirates and Woozles creatively mapped to dice, spinners and styrofoam vines draw out great stories, problem solving and amazing conversations:
Arranging Game My Animal Friends by HABA
Feed the Woozle by Peaceable Kingdom
FitzIt by Gamewright
Headbanz by Spinmaster
Jake and the Neverland Pirates Never Land Challenge by Wonder Forge
Morphology Jr. by Morphology Games
Rory's Story Cubes MAX by Creativity Hub Ltd.
Speedeebee! by Blue Orange Games
Storymatic Kids by The Storymatic Corporation
Zingo! Sight Words by ThinkFun
TOP 10 BOOKS – Lessons in celebrating the differences, learning to be thankful, and conquering fears inspire kids and start the conversation relating to their lives:
A Meal of the Stars by Dana Jenson and Tricia Tusa
Bear Says Thanks by Karma Wilson and Jane Chapman
Big Book of My World by Kali Stileman
GEM by Hollie Hobbie
Huck Runs Amuck! by Sean Taylor
Rocket Writes a Story by Tad Hills
Splish Splash, Splat! by Rob Scotton
The Little Pea by Eric Battut
The Tooth Mouse by Susan Hood and Janice Nadeau
What Can a Crane Pick Up? by Rebecca Kai Dotlich and Mike Lowery
Each holiday season millions are spent on kids' toys, games and books. These PAL winners above are not only great fun, but also encourage rich language development. Think "tastes like ice cream, fortifies like spinach," optimizing your toy purchases to build language while maintaining every bit of fun. Now's the time to be intentional about your child's toy chest, game drawer and bookshelf!
Playonwords.com was founded by well respected speech language pathologist, Sherry Artemenko, a 35 year champion of language driven play. Her esteemed PAL Award, popular blog, and helpful tips to parents set her apart as a leader advocating the language component in toys.
Over 15,000 hours working directly with children has shown her that a unique subset of the best toys, games and books have the capability to develop language while delivering great play. Studies show:
Kids with highest IQs at three, had the most words at one and two
Language learning is cumulative – early words => early sentences => language and reading
Most kids maintain their verbal advantage through childhood
Sherry established the PAL Award to identify unique toys, games and books that through their design, quality and character, encourage play that advances language. PAL winners in the hands of kids, spark fun and creative play with lots of talk. Such toys, recognized on the basis of her child development expertise, are complemented by practical coaching in her blog, showing parents how to get the most from toys, games and books to build language and underlying cognitive skills.