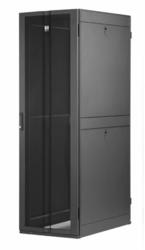 We at CPI are excited about the opportunity to work with CoolIT Systems to provide an operating environment for their direct contact liquid cooling solution.
-- Ian Seaton, CPI Global Technology Manager
Westlake Village, California (PRWEB) November 08, 2012
Chatsworth Products, Inc. (CPI), a global manufacturer providing products and solutions that optimize, store and secure technology equipment, will exhibit the seamless integration of its Cabinet and Enclosure Systems with CoolIT's Rack DCLC data center liquid cooling products during the SC12 Conference in Salt Lake City, Nov. 12-15.
The SC12 Conference is an ideal opportunity for CPI to demonstrate the diversity of its Cabinet and Enclosure Systems, which are capable of supporting numerous cooling solutions, including a transition from traditional cooling to direct contact liquid cooling. CPI built a customized version of its GF-Series GlobalFrame® Cabinet System exclusively for CoolIT's booth (4629), where conference attendees will get a first-hand look at how easily the Rack DCLC systems can be implemented into any data center.
"We at CPI are excited about the opportunity to work with CoolIT Systems to provide an operating environment for their direct contact liquid cooling solution," said Ian Seaton, CPI Global Technology Manager. "We view this as a logical extension of the value we have brought to the market from CPI Passive Cooling® Solutions, containment options and partnerships to optimize performance of precision cooling equipment and economizer systems. By working with CoolIT Systems, we can extend that value into the arena of HPC (high performance computing) and super computing applications."
CPI's Cabinet and Enclosure Systems, Demand Liquid Alliance server providers, and CoolIT's liquid cooling technology combine to create turnkey solutions that offer lower operating costs, higher processor frequency and increased density.
"Working with Chatsworth Products to develop this project has been a great experience and the resulting product is already impressing customers and system integrators alike," said Geoff Lyon, CEO and CTO, CoolIT Systems. "Having a cabinet specifically designed to allow the full integration of Direct Contact Liquid Cooling, enables more seamless adoption of liquid cooling technology and represents an important step in IT evolution."
About CoolIT Systems
CoolIT Systems has been dedicated to the invention and design of state-of-the-art cooling technology since 2001. With over 40 patents, high quality design, manufacturing, serviceability and a reputation that is synonymous with breakthrough thermal management solutions, CoolIT connects customers with design possibilities and exceptional performance results that only CoolIT's direct contact liquid cooling (DCLC) can provide. http://www.coolitsystems.com
About Chatsworth Products, Inc.
Chatsworth Products, Inc. (CPI) is a global manufacturer providing voice, data and security products and service solutions that optimize, store and secure technology equipment. CPI Products offer innovation, configurability, quality and value with a breadth of integrated system components, covering virtually all physical layer needs. Unequalled customer service and technical support, as well as a global network of industry-leading distributors, assures customers that CPI is dedicated to delivering products and services designed to meet their needs. Headquartered in the US, CPI operates global offices within the US, Mexico, Canada, China, the Middle East and the United Kingdom. CPI's manufacturing facilities are located in the US, Asia and Europe.
CPI is listed with the General Services Administration (GSA) under Federal Supply Schedule IT 70. Products are also available through GSA Advantage and through Government Wide Acquisition Contracts (GWACs), including GSA Connections and NITAAC-ECS III. (http://www.chatsworth.com/gov)
CPI Media Contact
Craig Ramey
Public Relation(at)chatsworth(dot)com
Phone: (+1) 252-635-4264
More Information
Visit: http://www.chatsworth.com
Email: info(at)chatsworth(dot)com
Toll-Free: 800-834-4969
###
All products quoted are subject to availability based on manufacturing capacity and shipping dates should be considered estimates only. While every effort has been made to ensure the accuracy of all information, CPI does not accept liability for any errors or omissions and reserves the right to change information and descriptions of listed services and products.
©2012 Chatsworth Products, Inc. All rights reserved. CPI, CPI Passive Cooling, MegaFrame, Saf-T-Grip, Seismic Frame, SlimFrame, TeraFrame, GlobalFrame, Cube-iT Plus, Evolution, OnTrac, QuadraRack and Velocity are federally registered trademarks of Chatsworth Products, Inc. eConnect and Simply Efficient are trademarks of Chatsworth Products, Inc. All other trademarks belong to their respective companies.