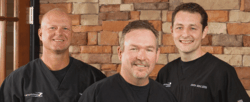 Fort Worth, TX (PRWEB) November 08, 2012
Fort Worth Dental's Dr. Terry M. Zang, Dr. Arthur J. Mund, and Dr. Justin Mund provide periodontal disease treatment with the new Laser Assisted New Attachment Procedure. Joining only one percent of dental professionals across the country, Fort Worth Dental brings this revolutionary new gum disease treatment to Fort Worth patients. Using a specialized laser, the bacteria and diseased tissue are removed without harming the bone or healthy tissue. This treatment offers minimal pain and recovery time is generally short.
Because millions of people suffer from gum or periodontal disease each year, the dentists at Fort Worth Dental actively work to provide periodontal disease treatment to their patients. Many people with the disease do not seek treatment. The hope is that once people learn about the new LANAP treatment they will be more willing to seek the treatment that is necessary. Gum disease can cause a number of dental problems including a receding gum line and deterioration of the jawbone. The gums help protect the teeth from bacteria and as they recede, the teeth are more vulnerable. As the bone deteriorates teeth may become loose and fall out.
In addition to the dental problems caused by gum or periodontal disease, scientists are finding that there are definite links between gum disease and problems like diabetes and cancer. When the bacteria cause an infection in the mouth, it can spread to the body through the bloodstream. Many people are beginning to realize how important dental health is to overall health. Treatment is necessary for the overall health of the person with the disease.
Using the PerioLase MVP-7 laser, the dentists at Fort Worth Dental are able to remove the disease from the mouth. The short pulses of light actually kill the bacteria and disintegrate the diseased or unhealthy tissue. Only the healthy tissue and teeth are left in the mouth so the disease is effectively eliminated. It is important to remember that proper dental care must be practiced so that the disease does not return. To learn more about this disease and the new LANAP periodontal disease treatment, visit http://www.fortworthdental.com.
Fort Worth Dental is a general practice offering patients personalized dental care for Fort Worth, TX. Dr. Terry M. Zang, Dr. Arthur J. Mund and Dr. Justin Mund are all dedicated to their dental practice, which offers the recent FDA cleared laser procedure for gum disease and periodontal treatment. Focused on preventative, restorative and cosmetic dentistry, they each have unique attributes for the practice. To learn more about Fort Worth Dental and their dental services visit their website at http://www.fortworthdental.com.